What is Notion AI?
Notion.AI is a software-as-service tool that helps content creators accomplish a variety of tasks – from brainstorming topics and researching keywords, to writing blogs and even launching web pages. It combines a treasure trove of useful tools into one super-efficient platform.
I've been personally using Notion.AI for over 6 months and it's transforming my content creation process into a well-oiled, perfectly calibrated machine. This blog post will list the best tips and tricks for Notion AI blog writing.
How Can I Use Notion AI Blog Writing Tools?
Notion AI Blog Outline Builder
One of the first Notion AI blog writing tools is the Outline Builder. This helps you build a content outline for your blog article, which helps to organize your thoughts and create the best structure for your article.
To use the Outline Builder, invoke the "Ask AI" prompt by clicking CMD + / on Mac and CTRL + / on Windows.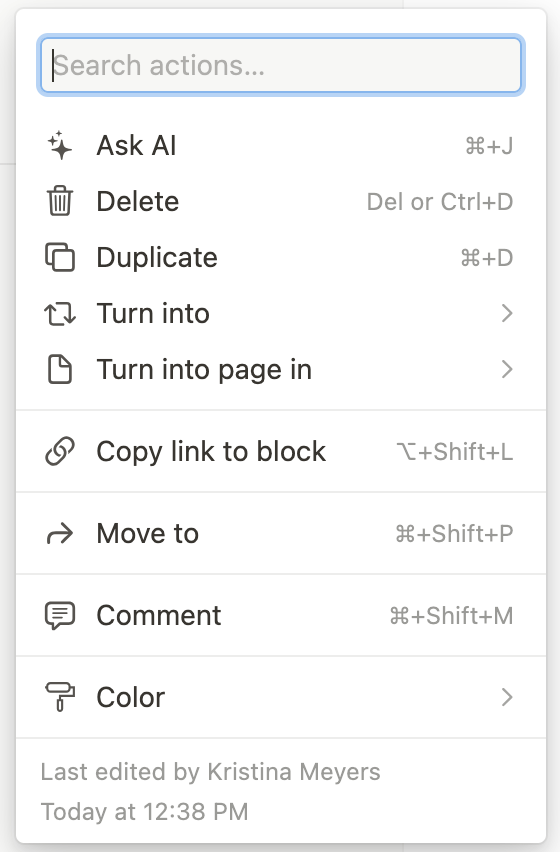 Next, Ask the AI to write an outline for your topic of choice.
Now, you can use this outline as a starting point to organize your thoughts and provide structure for your blog article.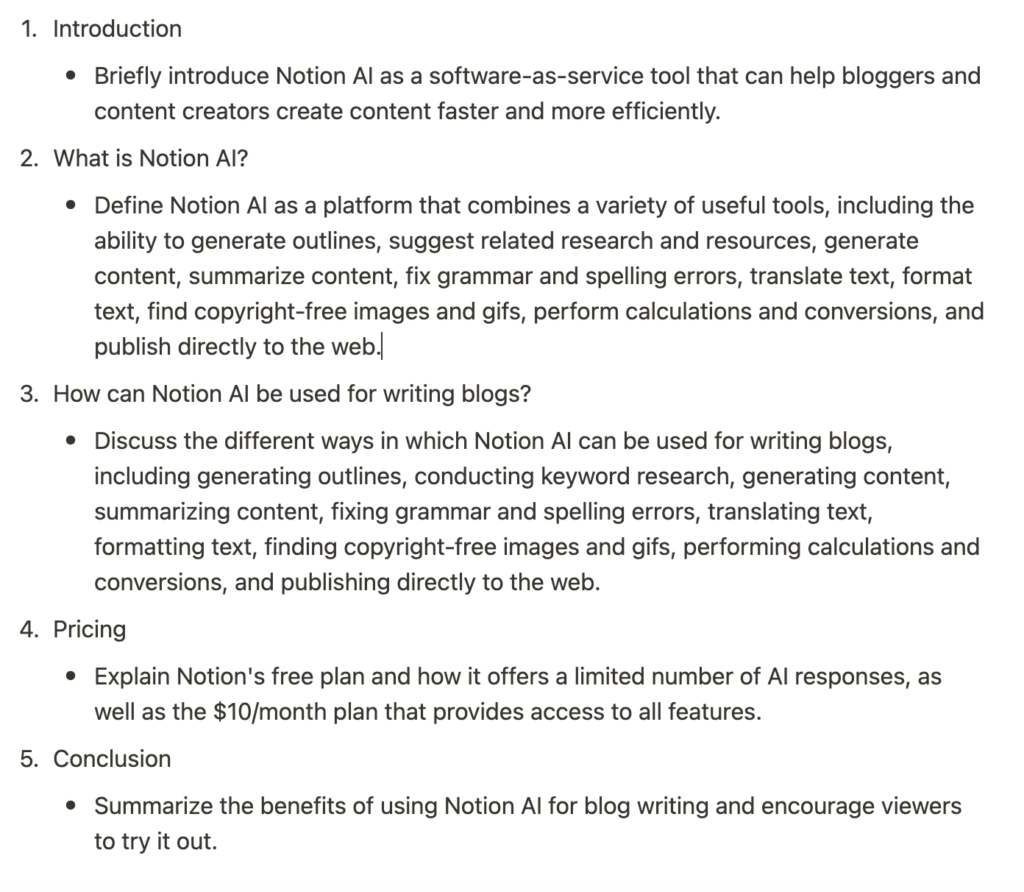 Notion AI for Keyword Research
Notion AI can research trending keywords to include in your blog article, in addition to suggesting related keywords and resources. This helps improve your blog article's search engine optimization.
Notion.AI to Generate AI Content
Notion AI can even help generate AI content for your blog post, which is a great way to generate ideas for your topic. This time-saving feature can really help speed up the content creation process.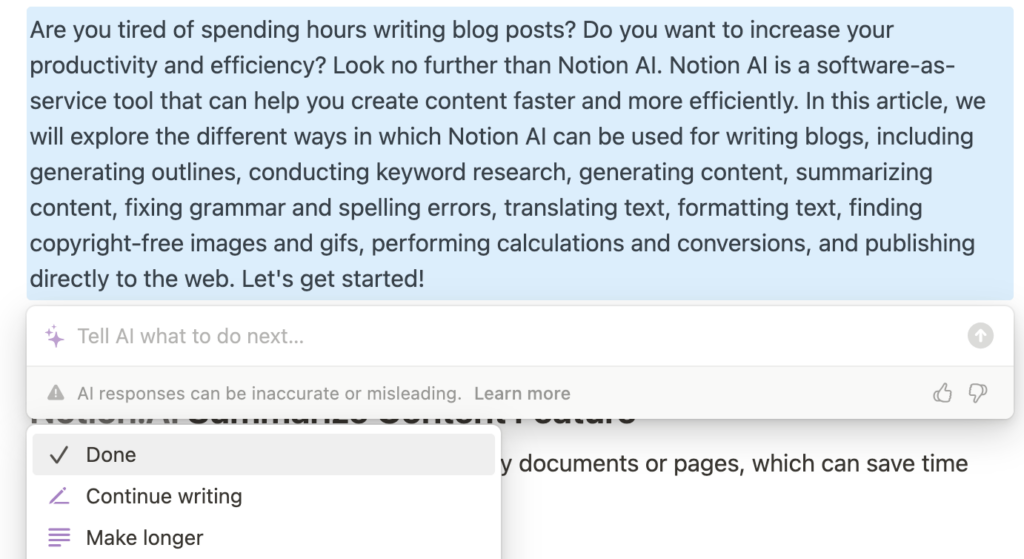 Notion.AI Summarize Content Feature
Notion AI can generate summaries of lengthy chunks of texts, or even full documents or pages. This is a great feature for research, especially as you're gathering data for you blog article.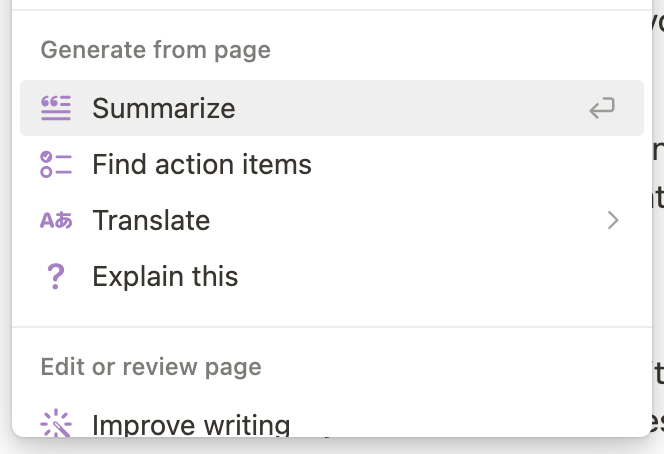 Notion AI Fix Spelling & Grammar Tool
Notion AI can also fix grammar and spelling errors throughout your blog article.

Notion AI Translate Text Tool
Notion AI is multilingual! If you want to translate your blog post into another language, Notion AI quickly translate your writing into a number of different languages, making it easier for you to reach a wider audience.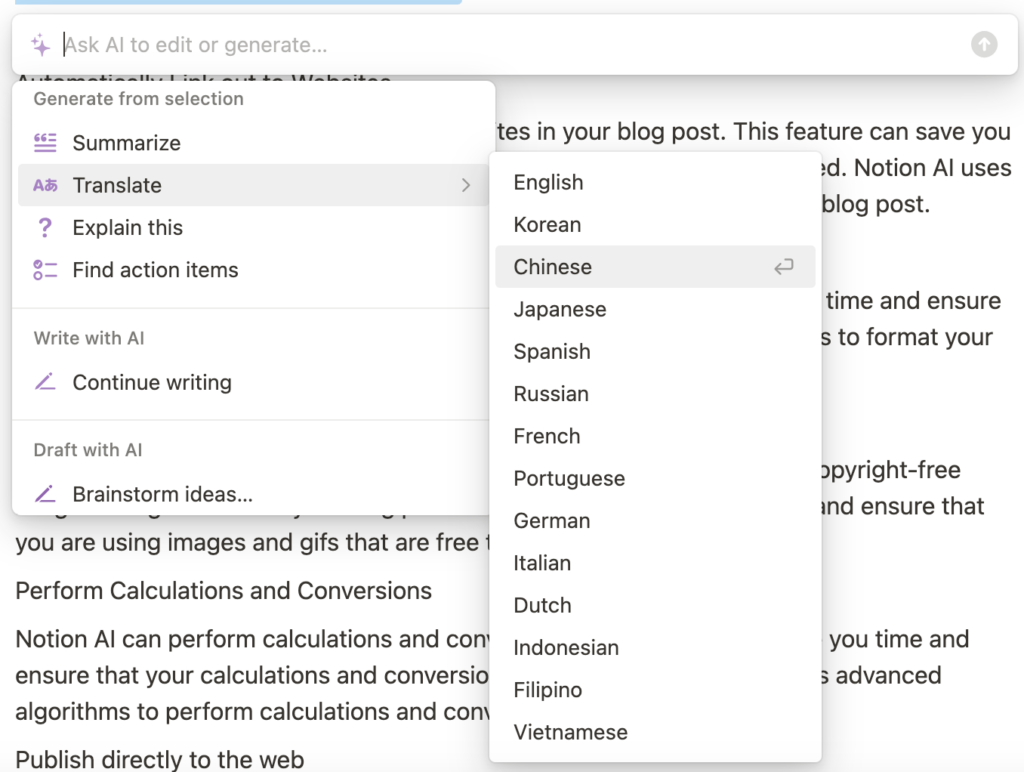 Notion AI Edit or Review
Notion AI can help your revise your blog text by improving your writing, making paragraphs longer or shorter, changing the tone of your writing, or simplifying the language. This helps you create content that is easy to read and well composed.
Notion AI Copyright-Free Images and Gifs
Notion AI is integrated with Unsplash and Giphy so that content creators can easily find copyright-free images and gifs. This feature can saves a ton of time because you never need to leave the writing platform to find awesome images for your blog.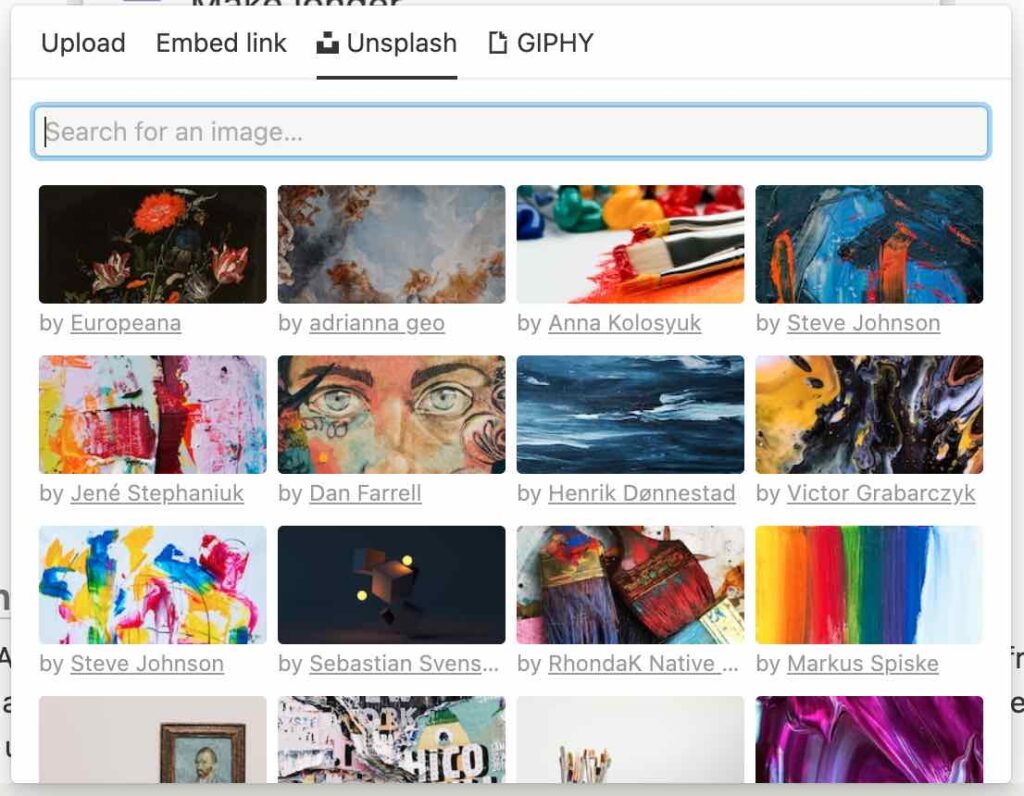 Automatically Link out to High Authority Websites
Notion AI can automatically link out to websites in your blog post. For example, if you'd like to link a specific topic to its Wikipedia page, you can simply instruct Notion to do so.

To link a word to its Wikipedia page, follow these steps:
Highlight the word(s) in your blog post.
Invoke the "Ask AI" prompt by clicking CMD + / on Mac and CTRL + / on Windows.
Type your instructions "Link [insert word(s) here] to Wikipedia" into the dialog field and press enter.
Notion AI will automatically find the correct Wikipedia page and insert a hyperlink.
You can use this technique to link out to any high-authority domain, like Encyclopdia.com or Science.com, for example.
Export to Markdown / HTML
One of Notion's coolest features is its ability to export your Notion content directly to markdown or HTML format. If you use a content management platform like WordPress, you can easily copy and paste this and quickly publish.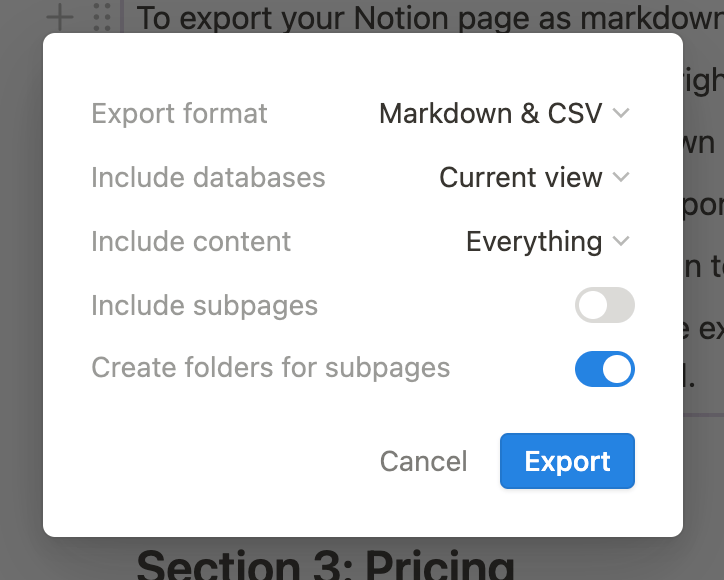 To export your Notion page as markdown or HTML, follow these steps:
Click on the three dots in the top right corner of your page.
Select "Export" from the drop-down menu.
Choose the format you want to export to – markdown or HTML.
Click "Export" and select a location to save the file.
Notion.AI Team Collaboration
Once you've completed your first draft (or two) in Notion.AI, you can easily share the work with your team. This is an invaluable tool when you're working with other writers, editors or developers.
Click the "Share" button on the top right of your page and enter the email addresses of your team members.

Section 3: Pricing
Free Plan
Notion has a free plan that gives you access to a limited number of AI responses. The number of complimentary AI responses increases with the number of members in the workspace and is shared among the entire workspace. You can also access the summarize and action items features.
Premium Plan
In order to gain access to all features, you need to upgrade to the $10/month plan.
Conclusion:
Notion AI is a wonderful tool for bloggers, writers and content creators in general because it allows you to consolidate your work in one place. The platform streamlines the writing process so that you can write and publish your ideas even faster than before.
From generating outlines, to researching trending keywords, to fixing grammar errors and even finding photos and animated GIFs, Notion AI has a huge toolbox of features and functions optimized to help you produce high-quality content.
Doesn't matter if you're a blogger, writer, or content marketer, Notion AI is a must-try tool.
Related Posts: