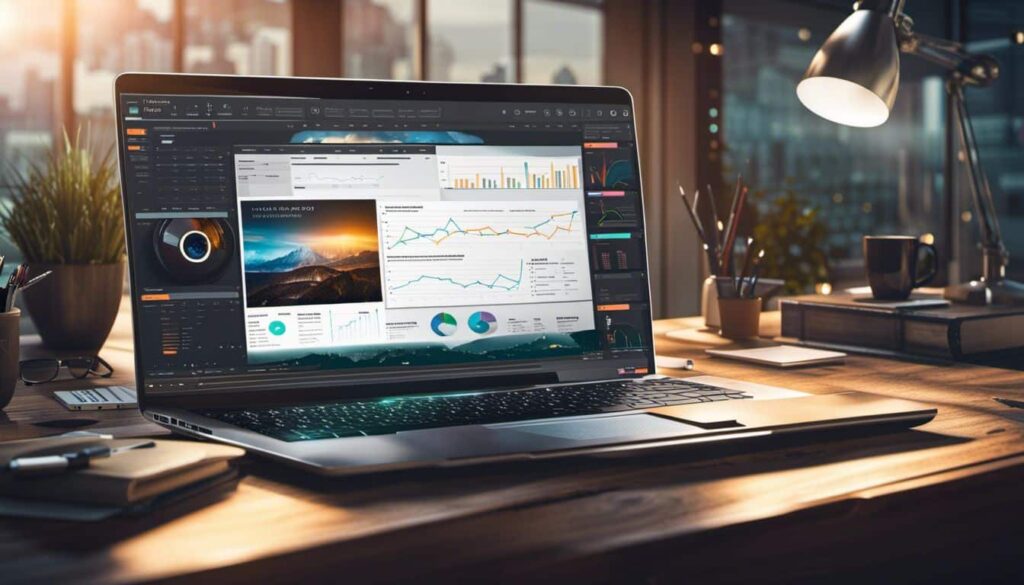 Please note that some of the links in this article may be affiliate links. This means that if you click on an affiliate link and make a purchase, we may earn a commission at no additional cost to you. We only recommend products and services that we have personally used and believe will bring value to our viewers.
NeuronWriter is an AI-powered SEO writing and content optimization tool that uses natural language processing and competitor analysis to help users plan, write, and optimize website content for higher search engine rankings.
Are you looking to get more out of your content optimization? Are you tired of manually searching for keywords and trying to optimize your web pages or blog posts?
NeuronWriter is an AI-powered SEO writing and content optimization tool that can help you do just that. It allows users to plan, write, create original copies, analyze competitors' search results, optimize website content and increase search engine rankings – all at once.
With the help of natural language processing (NLP) technology, Google SERP analysis, competitor data and much more vital information inputs—NeuronWriter makes creating optimized SEO content faster than ever before! Let's have a look at how this cutting-edge tool can help boost your content optimization game easily.
How NeuronWriter SEO Benefits Can Improve Content Optimization
NeuronWriter offers a powerful suite of AI-driven tools to help you craft SEO-friendly content, from SERP analysis and keyword research to NLP recommendations and outline building.
AI-powered content analysis and recommendations
NeuronWriter analyzes top-ranking web pages and provides personalized suggestions to improve your website's content for both search engines and human readers.
Using Natural Language Processing (NLP), NeuronWriter analyzes the top-ranking pages for a given keyword and offers tailored recommendations to make your content more appealing to Google's algorithms.
With these AI models, users are able to quickly understand what topics need be addressed in their content and adjust them accordingly with semantic SEO techniques such as optimizing keyword density or using synonyms.
Moreover, this powerful tool provides a comprehensive analysis of competitors' websites enabling users to gain insights on how they should structure their own documents accordingly in order to rank high on Search Engine Result Pages (SERPs).
Learn more about NeuronWriter ⇒ ⇒
NLP recommendations
NeuronWriter uses NLP to analyze user intent and provide recommendations for optimizing SEO content, including keyword and competitor analysis, semantic optimization, and document structure planning. These recommendations can boost organic visibility in SERPs.
NeuronWriter provides an in-depth look at SEO content to make tailored recommendations on how to optimize it for search engines.
The tool is able to analyze user intent, as well as suggest keyword analysis, competitor analysis, semantic optimization of titles and descriptions, internal linking suggestions and document structure planning.
This helps improve the relevance of content for users and boost ranking in search engine results pages (SERP). NLP recommendations can help optimize on-page factors that contribute to organic visibility such as title tags, meta descriptions, page headings and body text too.

Semantical SEO optimization
NeuronWriter helps improve SEO ranking by suggesting relevant semantic keywords, including keyword density and article structure.
Semantical SEO optimization is a process that involves analyzing the meaning of words, how they are related to each other, and how those relationships will affect search engine algorithms.
NeuronWriter provides semantic keyword coverage so that when someone searches online with specific words or phrases, they'll find your content more quickly and easily.
Competitor analysis and keyword research
NeuronWriter helps improve search engine optimization by analyzing competitor content and providing keyword research suggestions from its natural language processing (NLP) system.
NeuronWriter helps users quickly and easily identify competitor strategies by analyzing their content. Through its advanced features, the software offers a detailed view into what competitors within the same niche are doing to optimize content for search engine ranking.
Understanding and making use of relevant keywords is also essential for creating high-ranking content. Thus, NeuronWriter suggests related keywords, allowing users to quickly find fresh ideas and incorporate up-to-date language into their work as they write.
Google SERP analysis
NeuronWriter helps optimize content by comparing your content to top-performing websites in Google SERPs and suggesting improvements.
NeuronWriter Google SERP feature analyzes a website's content to identify ways in which it can be optimized for better visibility on search engine results.
NeuronWriter not only compares your content with the best articles from across the web, but also provides useful recommendations about how to adapt the SEO as per latest standards and guidelines.
Optimization suggestions and SEO scoring
NeuronWriter provides feedback and optimization scores to help you adjust your article and improve your SEO score.
NeuronWriter scores your article against the best online articles covering your target keyword – helping you write better content that will rank higher.
With NeuronWriter's optimization suggestions and SEO scoring feature, users can receive real-time feedback after running their content through the platform – allowing you to improve your score until you surpass your competitors.
Outline builder
NeuronWriter's outline builder is an intuitive drag & drop tool that makes it an invaluable tool for creating effective articles and blogs.
NeuronWriter's easy-to-use outline builder makes the planning, structuring, and optimizing of content simple and streamlined.
Not to mention that it comes with recommendations on how to boost SEO rankings by creating a more informative article or blog post. It also allows you to export custom reports that can be used for ongoing optimization purposes.
AI writer and text paraphraser/expander
NeuronWriter's text paraphraser/expander provides a powerful array of tools that help improve the quality of writing, increase topical authority, and rank higher in search engine results pages (SERPs) — all within minutes.
The text paraphraser/expander feature enables users to quickly create alternative versions of their texts with optimized semantic SEO markup suggestions so they can easily outrank competitors on SERP rankings.
Internal linking recommendations
NeuronWriter provides users with the ability to optimize their content through its internal linking feature, which can help improve SEO and user experience on a website.
NeuronWriter's internal linking feature analyzes your content to suggest relevant internal links on your website. The internal linking suggestions are quick, easy-to-follow, and will ultimately maximize your website optimization.
Document structure planning
NeuronWriter analyzes documents and suggests ways to improve paragraph length, formatting, subheadings, and topic organization, helping you plan the structure of online text quickly.
Document structure planning is an essential part of content optimization and SEO. It involves dividing a substantial piece of text into smaller, well-organized paragraphs that are easy to read through.
NeuronWriter makes it easy to plan the document structure in a matter of minutes, by analyzing existing documents and providing targeted suggestions on areas where improvements can be made.
Easy content management and integration
NeuronWriter simplifies content management by providing a repository for storing and organizing content, while its powerful API allows users to easily integrate it into other platforms and tools.
NeuronWriter's easy-to-use dashboard stores the most relevant details about a project, including searches results from Google Analytics integration or exported data from spreadsheets, making it simple for users to access both current and archived projects quickly.
Furthermore, NeuronWriter features stores insights about the volume & potential traffic of suggested keywords using previously generated metadata; making it easy to monitor performance and track goals.
Aside from saving time when creating new content, utilizing this powerful tool will ensure that content creators maintain a consistent publication schedule.
Learn more about NeuronWriter ⇒ ⇒
The Benefits of NeuronWriter
NeuronWriter is an effective tool that offers users a range of features, such as Google SERP analysis, AI-powered content analysis and recommendations, internal linking suggestions and optimization scoring – which can all contribute to improved ranking in search engines and save time during the content creation process.
Higher ranking in search engines
NeuronWriter is an AI-powered content optimization tool that can help improve the ranking of your content in search engine results. This software employs advanced natural language processing (NLP) technologies to analyze user search queries, competition data, SERP analysis and more to optimize content for better visibility on Google.
NeuronWriter helps users quickly identify competitive keywords relevant for their targets audience and create SEO article outlines tailored around those topics while applying best practices supported by cutting edge research.
Furthermore, this platform also offers features like document structure planning along with internal linking suggestions which help further contribute to higher rankings in search engines.
Time-saving content creation process
NeuronWriter's AI-powered tools and features can help shave hours off the content creation process. Its advanced semantic analysis and NLP recommendations enable writers to quickly optimize their articles for SEO, while its text paraphraser/expander accelerates the writing process by automatically suggesting relevant words and alternatives that flow with a user's existing text.
Additionally, NeuronWriter's document structure planning module provides an easy way to organize ideas into coherent outlines prior to fleshing out an article. This allows users to save time when mapping out how they want their story or piece of content to read before actually beginning the writing process.
All of these valuable tools make NeuronWriter one of the premier content optimization solutions on the market today.
Enhanced topical authority
NeuronWriter can greatly improve content optimization and help to ultimately build a website's authority by integrating semantic SEO and AI-powered analysis, as well analyzing competitors' performance for keyword research.
A user can use this tool to prepare all kinds of content – be it blog posts or white papers – with ease. Analyzing the data collected from Google SERP and natural language processing (NLP) recommendations by NeuronWriter is also extremely helpful to craft content that provides value while sticking to SEO best practices.
It even helps minimize writer's block, as users have various resources at their disposal: they can take advantage keywords research, document structure planning, an outline builder for creating succinct briefs optimized for search engine results page (SERP), visualization tools that allow comparison between contents from different sites and writers revealed both in tabular data format or more understandable charts configurations.
Affordable compared to SurferSEO and MarketMuse
One of the major advantages of NeuronWriter is its affordability, particularly when compared to other popular tools such as SurferSEO and MarketMuse. While NeuronWriter offers similar features as SurferSEO and MarketMuse, it does so at a significantly lower cost. This cost advantage is a major reason why more and more businesses are opting for NeuronWriter for their content optimization needs.
How to Use NeuronWriter for Content Optimization
Leverage NeuronWriter's suite of tools to create high-quality content for better optimization and improved SEO rankings – start by researching user intent, analyzing SERPs and then build an outline before writing and optimizing.
https://www.youtube.com/watch?v=nYfSLZGbVi4
Start with user intent and keyword research
When using NeuronWriter for content optimization, it's important to start by understanding user intent and conducting thorough keyword research. Understanding user intent helps shape content strategies as well as ensure that the content is tailored to meet the needs and expectations of target audiences – essential for achieving higher SEO rankings.
Through comprehensive keyword research, marketers can uncover valuable insights about their audience's interests and preferences which can be used to optimize content topics for maximum engagement; understanding how users search and what they are looking for reaches beyond a simple keyword list but dives further into queries about products and services in order to tailor content made specifically with drivers in mind.
In addition, keyword research through NeuronWriter will provide topic recommendations, data-driven summary outlines, related images sourced from places like Pexels or Pixabay (with explicit permission of course) which all contribute towards creating optimized and engaging content – only achievable once an organization really grasps its user base's needs become truly intentional when crafting ideas.
Analyze SERPs
An essential part of optimizing content for search engine rankings is analyzing SERPs. NeuronWriter helps users do just that with its powerful analysis and insights capabilities. It uses AI to scan the first page of Google results for keywords, images, videos, reviews etc., giving you an in-depth understanding on how your competitor's content ranks.
This feature not only provides valuable competitive insights but also suggests keywords that are most relevant to optimize content accordingly. Moreover, it even offers suggestions on ways to structure your articles for better readability and SEO optimization so you make sure you outrank the competition!
By offering this comprehensive SERP analysis tool along with other features like natural language processing (NLP) recommendations and document structure planning, NeuronWriter makes it easier than ever before for anyone to improve their organic search engine rankings quickly and effectively.
Create an outline
Using NeuronWriter's outline builder, you can easily map out content ideas to ensure maximum optimization and greater visibility in SERPs. The AI-powered tool helps identify the most relevant keywords for your topic and suggests titles that are optimized for both users and search engines.
Its powerful analysis of keyword competition allows you to select the best words choices based on their popularity, difficulty score, search volume, cost per click rate (CPC), and more.
With its intuitive navigation system, users have access to a repository containing detailed SEO articles outlines which saves time when creating new written works or optimizing existing ones.
Write and optimize content
NeuronWriter provides several AI-powered tools that allow users to quickly and effectively write content for both search engine optimization (SEO) and quality. NeuronWriter uses semantic models, natural language processing (NLP), Google SERP analysis, AI writer assistance, topic research & suggestions as well as NLP-based recommendations to create high-quality writing with SEO in mind.
With the help of NeuronWriter's features such as keyword research, outlining suggestion builder, competitor comparison tool or document structure planning users can easily optimize their content for better rankings on search engines like Google.
Additionally these tools save a lot of time as careful crafting of each piece is just a few clicks away with NeuronWriter.
Optimize for SEO
With NeuronWriter, optimizing content for SEO has never been easier. This AI-powered tool provides several features that can help users rank higher and improve their search engine optimization.
Its content editor is specifically designed to consider keyword density, page structure, meta description, and more when analyzing existing content or suggesting improvements. Additionally, its competition data shows information about competitor websites and helps users better understand what type of content performs best in each niche.
The tool also makes use of natural language processing (NLP) to generate recommendations on the basis of user intent and other factors. NeuronWriter even has an outline builder that can help build effective SEO article outlines with NLP-based recommendations for further improvement of a website's ranking potential.
Maintain a consistent publication schedule
Having a consistent content publication schedule is essential for creating successful SEO-friendly content. Not only do search engines favor regularly updated websites, but it also sets up a rhythm that allows readers to ensure they are receiving fresh and relevant information.
NeuronWriter helps users plan and maintain their publication schedule by providing keyword-related phrases that help frame ideas into individual topics, and NLP terms which develop those ideas further.
Furthermore, these insights can be saved in the repository to reduce wasted time conducting research on topics already addressed in previous projects. For more effective content optimization results, NeuronWriter incorporates AI analytics to analyze competitors' articles—enabling users to customize their writing style accordingly or use Semaphore's own AI writer if desired—which increases topic authority scores significantly.
Collaborate and share
NeuronWriter is designed to make content optimization and SEO a breeze, even for those who are newcomers to these processes. An important part of the workflow that NeuronWriter simplifies is collaboration and sharing.
With just a few clicks, users can easily share their work with team members and collaborate on content projects! This feature allows for diversified perspectives, shared expertise, quicker feedback cycles, higher accuracy in data inputting and editing – all leading to improved SEO performance.
For instance, if you're working on an article about fitness training tips you could set up a project for your team in NeuronWriter. Each member can take turns doing research or editing each other's changes.
The internal linking suggestions generated by the program will also give everyone more ideas as they go along – extending beyond what one person alone might have come up with when tackling such complex topics.
Conclusion
NeuronWriter is an AI-powered tool that helps users plan, write, and optimize website content. It offers enhanced SEO recommendations through semantic models (NLP), Google SERP analysis and competitor data.
This tool is designed to save time in the content creation process and help build higher rankings on search engines such as Google. NeuronWriter provides a range of advanced features like document structure planning, keyword research tools and NLP recommendations for improved SEO optimization.
Furthermore, it comes with an affordable price tag compared to the likes of SurferSEO or MarketMuse which make it ideal for anyone wanting to increase their online presence but have limited budgets available.
Using NeuronWriter can be a great way to get your content featured prominently in top search engine results pages without breaking the bank guaranteeing improved traffic numbers almost instantly!