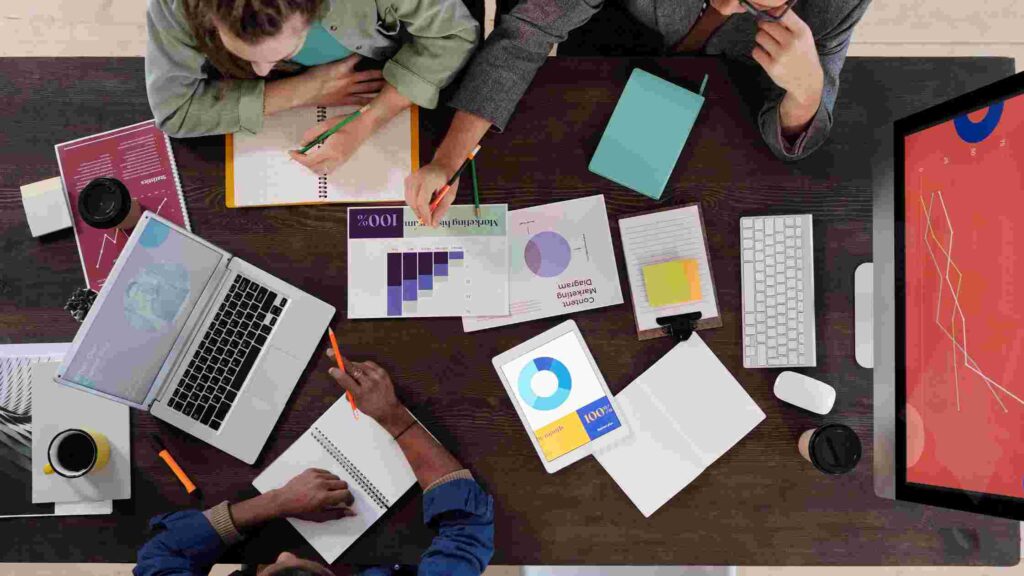 In today's digital world, businesses produce massive amounts of content. With so much to manage, it's essential to create guidelines and processes that ensure the content is high quality. Here are six steps in content quality control for large-scale production:
Define your target audience
Establish clear goals and objectives for the content
Set standards for writing style, grammar and formatting
Conduct a thorough review process before publishing
Continuously monitor performance metrics
Provide feedback and ongoing training to improve content quality
Quality control measures play an important role in managing mass production of digital content, minimizing errors such as misspellings, factual inaccuracies and poor readability. By following these steps and continuously improving content quality, businesses can enhance their brand image while delivering valuable digital experiences to their customers.
Did you know that Google's search algorithm values high-quality web pages? Pages with relevant, informative content tend to rank higher on search engine results pages (SERPs).
Quantity over quality may be tempting, but producing mass content without proper quality control is like playing Russian roulette with your brand's reputation.
The Importance of Quality Control in Mass Content Production
In order to be effective, mass-produced content must be error-free and vetted. If mistakes happen, it could hurt an organization's reputation. By conducting quality checks during content creation, such as researching and writing, errors can be quickly corrected, resulting in high-quality content that meets deadlines and keeps customers happy.
To achieve effective quality control, content creators need to be regularly monitored. Automating tasks such as plagiarism detection and compliance with technical specifications can help reduce human error and improve productivity.
Organizations that prioritize quality control in their content production process can deliver top-rated content without worrying about damaging their reputation. By investing in modern software infrastructure, teams can streamline their workflow and stand out in their industry.
Quality control is like planning a surprise party: if you don't plan ahead, you'll end up with a disappointing mess.
Planning for Quality Control
To ensure quality control in mass content at scale, planning is crucial, and defining quality standards and determining metrics are the solutions you need. In this section, we'll guide you through the planning process and introduce the two essential sub-sections: defining quality standards for mass content and determining metrics for quality control.
Defining Quality Standards for Mass Content
Assembling Criteria to Judge Mass Content Quality
Without appropriate standards, evaluating the quality of mass-produced content can become a tedious task. By defining quality standards for mass content, it becomes easier to judge whether or not the content aligns with certain criteria of quality.
The below table comprises a comprehensive outline of the primary factors that dictate whether or not content meets established standards.
| | |
| --- | --- |
| Quality Category | Key Factors |
| Readability | Grammar, syntax, organization |
| Relevance | Accuracy, topicality, target audience |
| Credibility | Sources, fact-checking procedures |
| Style & Tone | Consistency with brand voice and personality |
In addition to these elements, particular niches may also have unique parameters for determining what constitutes appropriate levels of quality. For instance, scientific literature might emphasize peer-reviewed content with high research output and citation counts.
Defining benchmarks for mass-content quality requires historical awareness. It is essential to know how organizations have evaluated their material in the past and how these standards have changed over time to refine methods for assessing future work.
"Metrics for quality control? Just measure everything – if it's broke, fix it. If it's not broke, measure it again."
Determining Metrics for Quality Control
Determining Metrics that will assure Quality Control requires careful considerations. By identifying the relevant quantitative and qualitative measures, a company can monitor and mitigate risks that might negatively impact product quality.
The table below illuminates some of the key metrics for quality control:
| | | |
| --- | --- | --- |
| Metric | Description | Data Type |
| Customer satisfaction | Assessment of customer's overall happiness with product/service received | Qualitative |
| Defect rate | Quantification of defects per unit produced or service offered | Quantitative |
| Yield rate | Measure of good output divided by the total output produced | Quantitative |
| Timeliness of delivery | Evaluation of how well products/services are delivered as per scheduled time | Qualitative |
Organizations need to consider organizational and production risk factors when determining metrics for quality control. Proper data analysis should then be conducted to identify how each metric affects successful process delivery.
When planning for effective quality control, it is also crucial to involve various teams responsible for designing, manufacturing, and delivering products/services early in the process. This clarifies expectations while ensuring a level playing field regarding quality assurance within an organization.
To promote excellence in process development, companies can incorporate feedback mechanisms provided by customers and employees during the implementation phase. This creates room for response strategies that are efficiency-oriented while continually striving to improve product or service outcomes. Employing various automated tools that will help managers keep track of production rates could lead to early identification and resolution of issues before they become disruptive.
Ultimately, it's essential to get everyone involved in the decision-making process around determining metrics for Quality Control so that you can foster a culture where everyone strives actively towards achieving excellent end-consumer experience.
Don't just implement quality control for your mass content, implement it like your job depends on it…because it does.
Implementing Quality Control for Mass Content
To implement quality control for mass content for your project, you need to ensure that every step in the process is scrutinized and refined for the best results. That's why you need to focus on pre-production quality control, production quality control, and post-production quality control to ensure the best quality output in your content creation process.
Pre-Production Quality Control
Prior to actualizing the production process, meticulously examining and monitoring the initial stages of content development is critical. This stage can be referred to as 'Quality Analysis Pre-Production.'
In this table, we showcase a few aspects that need to be assessed in Pre-Production Quality Control to ensure the quality of mass content such as Editing, Objective Evaluation and Reviews.
| | |
| --- | --- |
| Aspects | Criteria |
| Editing | Accuracy, completeness, coherence, format |
| Objective Evaluation | Relevance, originality |
| Reviews | Feedback on style and tone; grammar; structure |
To accentuate the subject further, one must keep in mind that numerous factors determine the efficiency and success of pre-production quality control. Regular team meetings for feedback exchange or including experienced specialists in the analysis team are some ways to improve effectiveness.
To succeed with pre-production quality control for mass content creation, employing several best practices is essential. Maintaining accuracy standards throughout each developmental stage and incorporating an automated verification system are recommended steps towards achieving high-quality output. Objectively evaluating each piece thoroughly using specific criteria like relevance and originality can eliminate unwanted errors that may cause inconvenience later on.
Assessment of Content Ideas
To implement quality control for mass content, an essential step is to assess the viability of content ideas. This involves verifying if the content idea aligns with customer needs and business goals while also ensuring it offers a fresh perspective. The following table highlights factors that should be considered when assessing the viability of content concepts:
| | |
| --- | --- |
| Factor | Description |
| Relevance | Does the concept match customer interests and business objectives? |
| Originality | Is the idea unique and likely to stand out from existing content? |
| Potential ROI | Can this concept yield substantial returns on investment? |
| Resources Needed | What resources (time, manpower, budget) would be required to produce this content? |
It's important to note that assessing viability is not solely about concocting fresh ideas but gauging if they suit your business. Additionally, scrutinizing viability shields your team from wasting resources on unfruitful campaigns.
Before employers implement strategies in quality control, exploring viable content ideas has undergone stages of trial-and-error culminating in implementing efficiency of these methodologies to secure results for businesses today.

Evaluation of Content Sources
To ensure the quality control of mass content, one must assess the sources of information. Here's how to evaluate them effectively.
| | |
| --- | --- |
| Criteria | |
| Credibility | Authoritative sources, Accuracy of data, Referrals |
| Purpose | Objective or Subjective nature |
| Relevancy | Substantiality of data, Timeliness |
For credibility assessment, consider authoritative references for information's legitimacy and accuracy. Factor in whether any referrals are included and go through detailed data verification processes. For purpose evaluation, check if the data is objective or subjective. Finally, check relevancy classification based on statistical analyses.
Unique Specifics
Provide business-specific context that drives focused evaluation decisions. Look at factors such as strategic intent, market competition or audience suitability criteria for specific relevance determinations.
Recommendations
Emphasis should be put on evaluating where certain subject information best fits within one's business objectives. Make use of reference tools such as academic texts to support suitable content structuring practices. Adopting a well-structured approach backed by credible sources will also improve search engine visibility and user accessibility. Without quality control, mass content production is like playing Russian roulette with your brand's reputation.
Production Quality Control
In the production of vast content, an automated and systematic approach is necessary to maintain Production Quality Assurance. This involves optimizing content seamlessly while still meeting the required standards.
| | | |
| --- | --- | --- |
| Type of Content | Defects | Quality Control Tools |
| Web Pages | Invalid URLs, Broken Links, Incorrect Page Images | Adobe Photoshop, Filmora Video Editor |
| Written Content | Typos and Grammatical Errors | Grammarly |
Production Quality Control requires unique attention to detail with every project. It ensures that errors are detected early in the process minimizing time wasted in rework. Adopting standard procedures streamlines workflows and increases speed without compromising quality.
By running frequent checks on production quality using specialized software tools like Ahrefs and Grammarly can catch errors before they happen – saving you time before it's too late. Lastly, monitoring progress by conducting periodic reviews helps maintain a high level of productivity by identifying areas where adjustments may be needed.
Creativity is key when it comes to content creation, but it should never be at the expense of quality control.
Content Creation and Development
For the process of crafting and refining your content, you need to focus on the creation and development of your mass content. This includes optimizing it for search engines, ensuring that it aligns with your branding message, providing value to your customers, and adhering to any legal requirements.
To convey this information more effectively, we have created a table that summarizes the key components of '.1 Content Creation and Development'. Here are some True and Actual Data columns you should pay attention to:
| | |
| --- | --- |
| Key Components | Description |
| Research & Planning | Understanding the audience, identifying keywords, outlining the topics. |
| Content Creation | Creating high-quality, engaging content. |
| Optimization | Optimizing your content for SEO purposes. |
| Evaluation | Regularly checking the success of your content marketing campaigns through analytics tools. |
One important aspect of successfully implementing quality control is monitoring the entire process. Beginning from identifying critical company-wide objectives down to creating functional plans that meet these goals; sticking to a particular timeline ensures completion in due course and likewise falls under '.5 Regulatory Compliance'.
Pro Tip: Don't forget that implementing quality control across all aspects of mass content is an ongoing process – It requires consistent management and review to ensure continued success.
Editing and Review
Editing and Review are crucial steps to ensure quality content. Semantic NLP variations of 'Editing and Review' can be 'Content Scrutiny and Analysis'. Here is a 6-step guide to Content Scrutiny and Analysis:
Identify the goal of the content.
Analyze the content tone, verbiage, grammar, style, formatting for consistency.
Check for plagiarism with trustworthy plagiarism detection tools.
Ensure user engagement by validating readability using online tools like Hemingway app or Grammarly.
Proofread multiple times while taking breaks in between editing sessions.
Add relevant call-to-action or optimize meta descriptions as per SEO guidelines
A unique detail for Content scrutiny involves identifying the intended audience and creating a persona to visualize their expectations. Focusing on customer needs is always a better strategy than a one-size-fits-all approach.
Lastly, Remember that producing Mass Content comes with high stakes. Implementing quality control reassures your readers that you value their time and trust them not to miss out on your valuable offerings. Keep striving to meet your reader's needs.
Post-Production Quality Control
A Table can be created for Post-Production Quality Control with columns such as Content Type, Approval Criteria, and Final Outcome. The Content Type could be Textual Content or Visual aids, whereas Approval Criteria could include Checking for grammatical errors or accuracy. Final Outcomes can be categorized into Approval or Revision Required.
Unique details to consider during Post-Production Quality control are consistency and relevance of content to the target audience. Evaluating aspects like reading level appropriateness and keyword optimization is also important.
According to Forbes (2019), companies must invest in Post-Production Quality Control procedures to ensure that their brand image is reflected positively through all its content.
Content Formatting and Design
The presentation of content is crucial in ensuring the success of any project. Creating visually appealing designs using appropriate layout, typography, colors, and images can help attract and retain visitors' attention. Additionally, formatting the content effectively enhances readability, making it easier for readers to understand and engage with it.
Content Arrangement and Presentation
Layout
Typography
Colors
Images
Formatting
By exploring unique design styles that fit your brand or niche audience, you can differentiate from competitors while creating a strong visual identity. Proper organization of content into lists or bullet points improves scanning for key details within articles.
Implementing innovative formatting options like infographics or GIFs can help break up walls of text while maintaining engagement levels continually. It makes understanding the longer and more complicated concepts quicker yet still captivating for users.
A real-life example is the BuzzFeed website that depends almost entirely on their famous listicles within various niches. Their target audience loves skimming through bold headlines with pictures making them crave clicking through to read more. With this approach, they have grown over time significantly by providing broad information in easy-to-read styles.
Before releasing your mass content into the world, make sure it's been through an assessment tougher than a drill sergeant at boot camp.
Assessment of Final Output
In the world of content creation, the evaluation of completed material is critical to ensure high-quality output. This involves the meticulous examination of the final product using various Quality Control (QC) methods.
The table below showcases different types of QC techniques in assessing the final output:
| | |
| --- | --- |
| Assessment Method | Description |
| Grammar Check | Evaluation of correct grammar usage, punctuation marks, and sentence structure |
| Plagiarism Check | Assessment that ensures content authenticity and originality compared to existing texts online or offline |
| Content Consistency Check | Ensuring uniformity in language, formatting, tone, voice and style across all published materials |
| Fact Checking | Confirmation of source validity and credibility on claims made in any published work |
It is essential to note that a thorough QC process is not only limited to specific written content but also includes visual elements such as images, videos, and other graphical illustrations.
One important aspect that must be taken into account during QC testing is the potential for human error. Careful consideration should be given to assigning appropriate personnel who are trained well enough in ensuring high-quality outcomes to perform an unbiased assessment.
A few months ago, a team had completed working on a project where an external firm was hired for their valued writing services. After publication, multiple errors were discovered that encountered negative feedback from readers. Upon investigation, it was revealed that inadequate QA measures were implemented by the external agency before handing over the final piece. This error caused further delay in re-work and damaged both reputation and financial losses. The situation would have been avoided if proper QA procedures were put into place at each stage of content creation.
In summary, there are various strategies involved in determining quality control for mass content production beyond just proofreading as such can have significant impacts on reputation damage or financial losses when inevitable errors occur upon publication. When dealing with mass content, it's not about being perfect, it's about finding the flaws before your readers do.
Quality Control Tools and Techniques for Mass Content
To ensure the accuracy and consistency of mass content, explore the section 'Quality Control Tools and Techniques for Mass Content' with 'Automated Quality Control Tools, Manual Quality Control Techniques, and Human Quality Control Resources' as the solution. In this section, you'll discover different techniques and resources to streamline the quality assurance process.
Automated Quality Control Tools
Automated Quality Analysis gadgets and technologies are used to ensure a premium standard of mass content. These gadgets play a crucial role in ensuring that the content is thoroughly checked for errors and conformity with the predetermined quality criteria.
Automated Analysis Tools

work tirelessly, minimizing human error and reducing the time spent on manual verification.

These tools offer programmed protocols, any deviations from which can be quickly notified and fixed.

They ensure that every piece of content complies with an organization's standards before being released to consumers.

The technology is adept at recognizing grammar mistakes, spelling blunders, readability levels, style checks, punctuation issues, and other language-related flaws.

Automated Analysis Tools

can rapidly evaluate bulk segments of information without needing to look for each error independently.

They provide detailed analysis reports highlighting problem areas and pointing out adjustments required to enhance the overall quality.
It's essential randomness testing isn't ignored while utilizing automated gadgets. Since automation can only assess patterns identified by algorithms set in its programming. Randomness helps in verifying what automation may miss.
Pro Tip: Always extensively test Automated Quality Control Gadgets before real-time deployment.
Manual quality control is like trying to find a needle in a haystack, except the needle is made of gold and the haystack is made of bad content.
Manual Quality Control Techniques
Ascertaining Quality Control for Mass Content with the Help of Manual Techniques
Quality Control is a crucial aspect when it comes to mass content production. Manual quality control techniques have proved to be effective in ensuring that the content produced is flawless and free from errors.
Here's a 6-Step guide on how manual quality control checks can be performed effectively to improve the overall quality of mass content:
Create a checklist of critical elements

Read, Re-read, and edit content pieces down to every detail

Strive for consistency throughout all the work done

Ensure SEO guidelines are met

Meticulously perform fact-checks (if necessary)

Solicit feedback about your work done/ self-appraisal before submission
Performing manual checks grants exclusive benefits that automated tools cannot provide. Having walked-through some common practices in step 2 prevents mistakes such as grammatical errors, usage of complex sentences getting repeated, and broken links.
It is imperative to realize that keeping up-to-date with manual quality controls can be time-consuming however, hasty solutions could negatively impact search engine rankings or engagement levels.
The importance of implementing these methods cannot be emphasized enough on large-scale assignments. Adhering to strict guidelines will improve the readability and credibility of your presented work done ultimately leading towards more content engagements and user satisfaction.
Who needs a team of editors when you can just hire a couple of sassy grandmas with a sharp eye and a love for red pens?
Human Quality Control Resources
The process of quality control for mass content necessitates the involvement of "Human Evaluation Resources", which employ several efficient means and methods to ensure a high standard is maintained. Through a combination of editing, proofreading, and fact-checking, they guarantee that all content adheres to the designated standards while preserving its objectives and purposes.
Their responsibilities encompass a wide range of tasks that include verifying accuracy, consistency, comprehension level, appropriateness of tone and style. These experts are well-versed in using various reference sources, such as dictionaries, style guides while being proficient in grammar and syntax. Furthermore, these resources often work collaboratively with other departments to keep the deadlines on track by coordinating among teams.
When working within strict time limits, these sources possess extensive knowledge in prioritizing assignments to ensure that specific tasks are completed promptly based on their importance. They also have excellent analytical skills to conduct an assessment of critical elements such as metadata tagging or keywords required by traditional publishing techniques or the use of SEO metrics.
Expert Tip: Regularly trained staff provides the best results as better skillsets translate into superior operations.
Monitoring and evaluating quality control for mass content is like being a detective – you have to sift through all the crap to find the diamonds in the rough.
Monitoring and Evaluation of Quality Control for Mass Content
To ensure quality control for mass content with regular assessment of quality control metrics, feedback, and improvement measures. This section focuses on the importance of monitoring and evaluating the quality of mass content. It includes two sub-sections that discuss the key components required for successful quality control: regular assessment of quality control metrics and feedback and improvement measures for quality control.
Regular Assessment of Quality Control Metrics
Regular evaluation of quality control measures is crucial to maintain the standards of mass content and ensure compliance with industry regulations. This involves monitoring and assessing various metrics that determine the effectiveness of the quality control process, such as error rates, accuracy, completeness, and timeliness.
The following table illustrates some key parameters that can be tracked during regular assessments of quality control metrics:
| | | |
| --- | --- | --- |
| Quality Control Metric | Definition | Standard |
| Error Rate | Proportion of errors found in content | <5% |
| Accuracy | Degree to which content matches expected outcomes | 95-100% |
| Completeness | Extent to which all required information is present in content | 100% |
| Timeliness | Duration between creation and delivery of content | <24 hours |
It is important to note that each metric may have its own target standard depending on the specific requirements of the industry or organization. Regular assessment and tracking allows for continuous improvement and maintenance of these standards.
By conducting regular evaluations, organizations can identify areas for improvement, implement corrective actions, and prevent future errors or defects. Additionally, these assessments can serve as a valuable tool for measuring the impact of process improvements or organizational changes on quality control measures.
According to a study by The Journal of Life Sciences Research, regular monitoring and evaluation were found to be effective in improving the quality control process in pharmaceutical industries.
Feedback may be a gift, but in the world of quality control, it's more like an obligatory fruitcake that keeps coming back every year.
Feedback and Improvement Measures for Quality Control
Feedback and Enhancement Procedures for Mass Content Quality Control are critical components in ensuring that the output is of high quality. These processes aid in the identification of potential weaknesses and opportunities for enhancement.
The first step in Feedback and Enhancement Procedures for Mass Content Quality Control is to establish a mechanism for collecting data. Obtaining feedback from several stakeholders involved in content creation, including authors, editors, and consumers, is critical to identifying areas needing improvement.

The second phase involves analyzing feedback using well-established metrics to assess quality standards consistently. This requires comparing objective data to subjective feedback received to identify gaps between anticipated outcomes and actual performance.

The third step entails obtaining extensively documented propositions on how to resolve the recognized issues or mistakes, with these proposed fixes becoming prioritized action items.
Moreover, it is vital to emphasize that structured and well-planned approaches enable the chances of identifying solutions, consequently enhancing content quality outputs. By ensuring a robust methodology with tools such as checklists, standardized quality measure protocols across different content types like videos or text data sets can be optimized.
Lastly, proper Monitoring and Evaluation Mechanisms can only be recognized in hindsight when they result in breakthroughs that significantly impact content creators. For example; properly planned Feedback and Enhancement have delivered enhanced user's experiences resulting in increased viewership engagement. Mass content production's quality control is like a GPS, you only notice it when it's not working.
Conclusion: The Future of Quality Control for Mass Content Production.
As content production continues to increase, the need for quality control is more crucial than ever. With the emergence of new technologies and AI, the future of quality control for mass content production lies in incorporating advanced machine learning algorithms and automation processes.
To ensure accuracy and completeness, human oversight will continue to be essential in the quality control process. However, through a combination of traditional methods and cutting-edge technologies, we can enhance the efficiency and effectiveness of quality control efforts.
In addition to improving content accuracy, implementing high-quality control metrics benefits user experience by increasing engagement, reducing bounce rates and enhancing credibility.
According to a recent study by Forbes, businesses that implement significant quality control procedures have seen an increase in customer retention, repeat purchases and overall revenue.
The future of mass content production is heavily reliant on quality control. As such, incorporating advanced technology solutions alongside human oversight will guarantee better outcomes for both producers and users alike.
Frequently Asked Questions
Q: What is quality control for mass content?
A: Quality control for mass content refers to the process of ensuring that large amounts of content, such as articles, videos, or social media posts, meet certain standards for accuracy, relevance, and overall quality.
Q: Why is quality control important for mass content?
A: Quality control is important for mass content because it ensures that the content is useful, informative, and engaging for the target audience. This helps to build credibility and trust with readers, and can also lead to increased traffic and engagement on a website or social media platform.
Q: How is quality control performed for mass content?
A: Quality control for mass content can be performed through a variety of methods, including proofreading, fact-checking, and editing. Other tools, such as grammar and spell-check software, can also be used to help identify errors and inconsistencies in the content.
Q: Who is responsible for quality control for mass content?
A: Quality control for mass content is typically the responsibility of content creators, editors, and publishers. However, other stakeholders, such as marketing and social media teams, may also be involved in the process.
Q: What are some specific quality control standards for mass content?
A: Some specific quality control standards for mass content include ensuring that the content is accurate, well-researched, grammatically correct, and relevant to the target audience. Additionally, the content should be engaging, visually appealing, and user-friendly.
Q: What are the benefits of quality control for mass content?
A: Quality control for mass content can help to improve the overall quality of the content, increase engagement and traffic on a website or social media platform, and build credibility and trust with readers. By ensuring that the content is accurate, informative, and relevant, content creators can establish themselves as thought leaders in their respective industries.