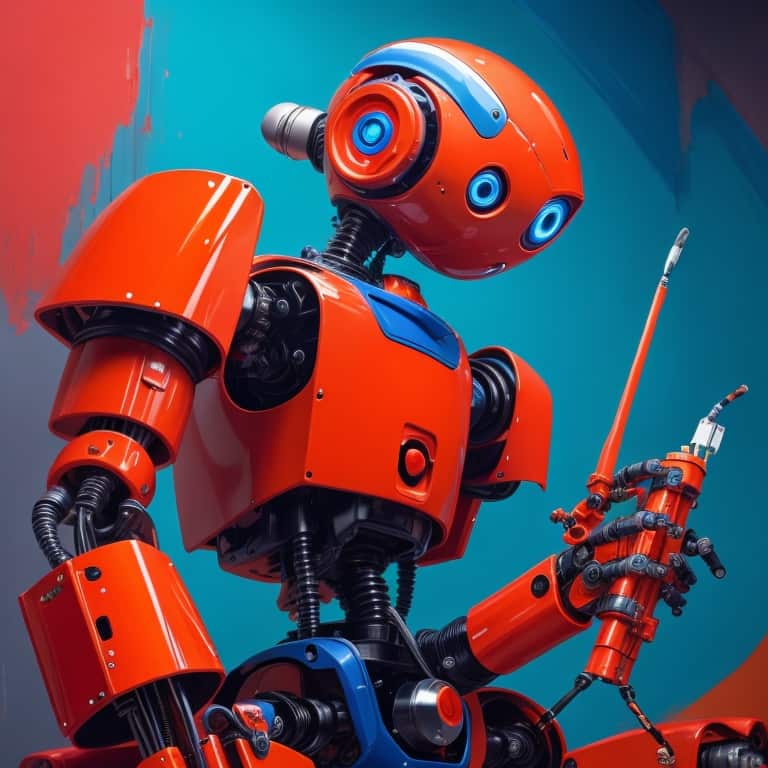 Art production has been transformed by AI art generators. These innovative tools allow artists and designers to create unique art pieces by using algorithms that replicate human-like cognitive abilities. These tools have introduced new possibilities within the field of art, making it accessible to everyone with an idea. The tools engage in problem-solving to produce digital or physical works that are unlike any others.
Introduction to the AI Art Generators
AI art generators are content generation tools that use artificial intelligence to create art. These tools leverage machine learning algorithms to understand different art styles, color schemes, and compositions, and then generate new pieces of art based on these understandings. They are capable of producing a wide range of art, from abstract paintings to realistic portraits, and everything in between. The beauty of these generators is that they open up a whole new world of artistic possibilities.
These AI art generators produce artworks using deep learning techniques, machine vision, and NLP. They can generate images, video, audio, and text-based artworks. The constantly improving technology is allowing for more realistic and expressive creations. It offers solutions for those who lack traditional skills but appreciate and desire artistic output.
The Best AI art generators
There are number of popular AI art generators available today, including Midjourney, BlueWillow, InstantArt, Synthesys X, Lexica Art, ddmm, and Playground AI. Each tool has its unique features and capabilities. Some offer a wide range of styles and themes, while others focus on specific types of art. Some are easy to use and cater to beginners, while others offer advanced features for more experienced users. The choice of an AI art generator depends on the user's needs and preferences.
Top-rated AI art generators give content creators new ways of creating images and videos using impressive algorithms.
This AI-powered platform produces trippy and ethereal art by using deep learning algorithms to enhance and morph ordinary images. The result is a dreamlike, surrealistic image that resembles works of Salvador Dali. A user can upload an image or choose from existing ones and apply different style filters such as vibrant colors, ink spill or abstract lines to explore their imagination. This tool is perfect for digital artists, designers, or anyone seeking creative inspiration.
DeepDreamGenerator is also a community-driven platform where users can view other people's creations in the gallery section and even share theirs with the world. One notable feature is the option to control the level of abstraction on different parts of the image using the masking tool, providing more flexibility in crafting unique artworks.
Using DeepDreamGenerator is effortless thanks to its user-friendly interface, preview feature and easy-to-use controls for adjusting various parameters like saturation or contrast. Whether you are a beginner or professional artist, this platform offers endless possibilities for unlocking your artistic potential.
Missing out on creating amazing AI artwork has never been easier when you have DeepDreamGenerator at your fingertips. Join this creative community today and unleash your creativity with cutting-edge AI technology.
RunwayML: Where your wildest art dreams come to life, and the robots are the ones doing all the work.
For the AI art generator platform, RunwayML offers a range of tools for artists and designers to experiment with. The platform uses advanced Machine Learning techniques to generate compelling and unique pieces of artwork.
The table below showcases some of RunwayML's most popular features and the corresponding data:
| | |
| --- | --- |
| Feature | Description |
| StyleGAN2 | A deep learning model that generates high-quality images. |
| GPT-3 | A language model that assists creative writing with intelligent suggestions. |
| PoseNet | An ML algorithm that detects human poses from an image or video stream. |
RunwayML's innovative approach allows designers to expand their creativity with ease and efficiency.
One standout feature is StyleGAN2, as it provides users with a broad range of image generation possibilities. By leveraging this technology, artists can create stunning visuals that are indistinguishable from real-life photographs.
For those who wish to create written works, GPT-3 offers unique capabilities that enhance the creative process by suggesting phrases that complement existing text. Finally, PoseNet presents a remarkable opportunity for artists wishing to incorporate human subjects into their designs.
To maximize your experience on RunwayML, here are some recommendations:
Begin with basic models before transitioning to more intricate ones.

Experiment with various parameters within models as minor adjustments can have a significant impact.

Take time to understand how each model functions so you can use them optimally.
By keeping these suggestions in mind, you'll be well on your way to creating awe-inspiring creations through RunwayML's incredible AI-powered art generators.
GANbreeder: because why settle for a basic pet, when you can create your own freaky Frankenstein monster?
In the GANbreeder table, the first column displays different images generated by the program, and the second column represents the percentage similarity between two selected images. Users can also view information such as image ID, date of creation, artist name (which is managed automatically), votes received amongst many other details.
Apart from generating surreal and innovative digital imagery, GANbreeder's unique feature lies in its ability to allow users to manipulate individual features such as color, shape, texture, or even a combination of these features without affecting others.
This flexibility makes it possible for users to explore their creativity limits while experimenting with possibilities allowing for greater versatility in their end products output.
According to Alamy stock photo agency that ran a survey on 2,000 UK respondents on Art perception in November 2019: "39% said they were interested in AI-generated art pieces."
Being one of the top AI art generators, this versatile tool goes beyond simple image synthesis or generation. It utilizes a novel method called generative adversarial networks (GANs), where two neural networks work together to create a new image. By tweaking specific traits like color, style, and even combining different breeds of animals or plants, Artbreeder produces unique and diverse visual outputs.
Artbreeder's capabilities include:
| | |
| --- | --- |
| Feature | Description |
| Trait Mixing | Adjust and blend attributes like color, shape, and texture |
| Genealogy Tree | A family tree that shows past creations and how they evolved |
| Multi-Style GANs | Generate images with various styles such as Impressionistic |
| User Collection | Use other user's creations as starting points for your own |
Aside from these unique features, Artbreeder also allows users to share their creations and collaborate with others in the community. This fosters an environment of growth that encourages creativity while pushing the limits of what is possible with AI-generated art.
To fully utilize Artbreeder's features, here are some suggestions:
Take advantage of

Trait Mixing

for experimentation and finding your style

Use the

Genealogy Tree

to track how your images evolve

Try combining

Multi-Style GANs

to create truly unique images

Participate in the community by sharing your work and collaborating with other artists
Utilizing sophisticated deep learning algorithms, Prisma AI art generator creates distinctive visual styles similar to renowned artists. The technology uses intricate image processing features and readily accessible through a user-friendly interface.
Prisma outperforms some leading AI tools in terms of the quality of its output artwork and is known for producing more detailed artworks with finer textures that are true-to-life. The platform allows users to effortlessly change their photos into masterpieces by modifying the input photos and adjusting variables such as saturation, hue, brightness using the app's built-in filters.
There are over 300 artistic styles that range from abstract colors to realistic portraits with various filter intensity options available for you!

Other AI Art Generators:
Choosing the right AI art generator is like picking a partner – you want one with good features and compatibility, but also one that won't leave you with a bland and soulless creation.

Features to consider in an AI art generator
1 – An AI art generator is a tool that uses Artificial Intelligence algorithms to create art. To choose the best AI art generator, you need to pay attention to various features that determine the quality of its output.
2 – Consider the following features while choosing an AI art generator:
Style Transfer:

Ability to transfer the style of an existing artwork to a new image.

Customization:

Ability to tweak parameters such as colors, shapes, and textures to produce unique art.

Resolution:

Output quality in terms of pixel count, DPI, and aspect ratio.

Training Data:

Quantity and diversity of input data used to train the AI model.

User Interface:

Ease of use, interactivity, and availability of tutorials or guides.
3 – Some AI art generators also offer features such as animation, video synthesis, and music synchronization. These advanced options can enhance the visual and auditory appeal of the generated art. Additionally, there are AI art exhibitions and galleries where you can showcase your artwork to a wider audience.
4 – Pro Tip: When using an AI art generator, it's essential to have a clear vision of what you want to create. Experimenting with different parameters can lead to unexpected results, but it's worth the effort to discover new forms of art. Whether you prefer a Mona Lisa or a meme, these AI art generators let you choose your style, medium, and level of artistic skill (or lack thereof).
Customizability of style and media
To ensure that an AI art generator is customizable to match different styles and media, it should possess certain features. These features may include the ability to manipulate color palettes, dimensions, textures, and transparency levels. Additionally, multiple media types must be supported for optimal convenience. Below is a table showcasing some of the important customizability features of an AI art generator.
| | |
| --- | --- |
| Features | Description |
| Color Palettes | Ability to alter color schemes or select from pre-existing ones |
| Dimensions | Option to adjust image size and aspect ratio |
| Textures | Capability to add texture overlays or modify existing textures |
| Transparency | Control over how much transparency an image has |
| Supported Media | Options for generating images in various formats like JPEG, PNG, SVG or other vectors |
Apart from these standard features, some AI art generators offer advanced settings such as brush stroke intensity or style transfer suggestions. 
These can influence the generated artwork heavily. As many artists prefer automation of specific design tasks without complete autonomy over their creations, customization plays a pivotal role in making an AI art generator appealing and valuable for its users. A major challenge faced by developers during the initial period was providing usable instruction sets for these creative algorithms. The majority of early generative models relied upon random inputs without much guidance. However, with the help of Deep Learning techniques and Natural Language Processing (NLP), developers have created Neural Networks that generate more refined output by recognizing patterns from natural input data conveniently. 
Quality of output
When considering the effectiveness of an AI art generator, evaluating the output quality is crucial. Below are specific parameters that could be examined to ensure that the generated artwork meets specific needs.
| | |
| --- | --- |
| Parameter | Description |
| Visual Appeal | Assessing the aesthetics and overall impression of the generated art. |
| Originality | Determining how innovative or creative the produced piece is in terms of ideas, form, and color. This can be achieved by checking for similarity with existing artwork. |
| Technical Accuracy | Assessing whether the artwork appears accurate and technically correct according to standards in the given artistic style or genre. This inclues perspective, proportion, shadow casts etc. |
It's essential to record unique details such as technique applied by each AI model tested, how much user input is involved in making a decision about choosing a model and testing it against a set of requirements. The factors that influence adjustments used while generating images should also be noted to track their modeling trends over time. An interest in replicating human constructs using computing tools was introduced in John McCarthy's proposal for what we now call Artificial Intelligence back in 1955. Regardless of all its impressive advancements in recent years, one of today's most explosive technologies has been machine learning and its subsets including Natural Language Processing (NLP) and Computer Vision comprising faces recognition, object detection among others helping push forward various industries like health care, transportation, marketing etc., supporting growth while remaining true to scientific inquiry principles. Who needs an art degree when you can just let an AI generator paint like Picasso, Van Gogh, and Warhol all in one?
Range of available styles
One important aspect to consider when evaluating an AI art generator is its ability to produce a diverse and broad range of artistic styles. This feature can greatly influence the resulting artworks and creative potential of the tool. Below are some examples of different styles that a reliable AI art generator may offer:
| | |
| --- | --- |
| Style | Description |
| Abstract | Non-representational art that focuses on color, composition and form rather than realistic depiction. |
| Pop Art | Brightly colored and bold images inspired by popular culture, celebrities or everyday objects. |
| Impressionism | Focuses on the effects of light on color in nature, with emphasis placed on capturing fleeting moments and emotions. |
| Cubism | A modernist style that incorporates fragmentation, multiple perspectives and geometric shapes to create a complex abstract image. |
An exceptional AI art generator could provide unique variations of typical genres such as these, augmenting them in innovative ways or synthesizing mixed styles for new possibilities.
Another important factor to keep in mind is how easy it is to train and test the model with different datasets. The quality of training data determines how accurate and efficient the algorithm will produce new artworks.
"A study from Stanford University found that 19% of portrayals across genres in TV workforces are written by women compared to 51% in reality audiences (Yarong Zhou)."
When it comes to AI art generators, the user interface should be so simple even a robot could use it.
User interface and ease of use
The AI art generator's user interface and ease of use are significant factors that need to be considered when selecting one. Below is a breakdown of the details that should be factored in:
| | |
| --- | --- |
| Details | Explanation |
| Customization options | The ability to customize the program according to your needs or preferences makes it more user-friendly. |
| Intuitive controls | The software's interface must have clearly labeled buttons, easy-to-understand menus, and an intuitive layout. |
| A smooth workflow | The software must move orders along in a logical sequence with minimum keystrokes or mouse clicks required from the user. |
Regarding usability optimization, integrating features such as shortcut keys and auto-suggest will reduce the time taken to complete tasks within the software.
Have you encountered any difficulties while using an AI art generator? The foremost challenge I faced was difficulty navigating my way through the tool's interface due to its complex user experience elements.
Who needs a muse when you have an AI art generator doing all the work for you?
How AI art generators work
Artificial Intelligence (AI) art generators employ complex algorithms and machine learning models to create original or derivative works of art. Utilizing various techniques such as style transfer, neural networks, and GANs, these generative models analyze and learn from vast collections of images, textures, and artistic styles to generate new pieces that are often indistinguishable from human-created art.
These algorithms work by breaking down images into smaller segments or features, then recomposing them to produce a new visually compelling artwork with its unique qualities.
Moreover, the output of AI art generators is (not solely but) largely influenced by user inputs such as color choices, subject matter, or even specific artistic periods. This allows for a degree of creative control while still harnessing the power of artificial intelligence to create unpredictable and novel artworks.
AI-generated artwork sold for $432,500 at Christie's Auction House in 2018.
The Portrait of Edmond de Belamy was created using a machine learning algorithm by Paris-based collective Obvious.
AI art may take over galleries, but at least we won't have to pretend to understand abstract art anymore.
The Controversy Surrounding AI Art
AI-generated art has sparked debates within the art community. Some artists argue that AI art lacks the emotional depth and personal touch of human-created art. Others see AI as a tool that can enhance creativity and open up new possibilities for artistic expression. There are also concerns about copyright issues and the potential for AI to replace human artists. However, many believe that AI and humans can coexist in the art world, each bringing their unique strengths to the table.
The Role of Discord in AI Art Generation
Discord, a popular communication platform, has become a hub for AI art generation. AI art generators like Midjourney and BlueWillow have Discord servers where users can generate art by typing commands. This makes the process of creating AI art more interactive and community-driven. Users can share their creations, get feedback, and learn from each other, making the experience more engaging and enjoyable.
The Power of Customization in AI Art Generators
Some AI art generators allow users to choose which models to feed their prompts into, enabling more customization and control over the output. For instance, InstantArt allows users to select different models for their prompts. This feature allows users to experiment with different styles and effects, and to create art that aligns with their vision. It also adds an element of fun and discovery to the process, as users can explore different models and see how they influence the final output.
The Impact of AI Art on Creativity
AI art generators are not just tools for creating art; they also serve as platforms for exploring and expanding human creativity. They allow users to experiment with different styles, themes, and compositions, pushing the boundaries of what is possible in art. They challenge users to think outside the box and to approach art creation in new and innovative ways. In this sense, AI art generators are not just producing art; they are also fostering creativity and promoting artistic growth.
The Commercial Aspect of AI Art Generators
While many AI art generators offer free services, some also have paid plans that provide additional features. For example, Midjourney offers a paid plan that allows users to generate art privately and in higher quantities. This commercialaspect of AI art generators opens up opportunities for artists and businesses. Artists can use these tools to create unique pieces of art for sale, while businesses can use them to generate custom artwork for marketing and branding purposes. The potential for monetization adds a new dimension to the world of AI art.
The Future of AI Art Generators
The field of AI art is still evolving, with new tools and capabilities being developed regularly. Future advancements may include more realistic AI models, greater customization options, and more integration with other creative tools. As AI technology continues to advance, we can expect AI art generators to become more sophisticated and versatile. They may also become more accessible, with user-friendly interfaces and affordable pricing options. The future of AI art looks bright, with endless possibilities for creativity and innovation.
Impact of AI art on the art industry
The emergence of AI art generators has had a significant influence on the art industry. These sophisticated tools have made it easier for artists to express their creativity and bring their art to life. With access to these tools, artists can experiment with new styles, integrate various techniques, and create unique pieces of artwork that were once impossible to produce.
The use of AI in art-making has opened up endless possibilities for artistic expression. By leveraging machine learning algorithms, these generators can help artists create complex designs, patterns, and color schemes that were previously difficult or time-consuming to execute manually. They can also assist with tasks such as image segmentation, transformation, and stylization.
In addition to making it easier for artists to create stunning artworks, AI-powered art generators have also transformed the way we appreciate art. They have enabled us to view visual artworks from different perspectives, providing us with an immersive experience that was not possible before. And by allowing anyone with an internet connection to access these digital works of art instantly, they have democratized art in ways never seen before.
As the demand for AI-generated art grows, here are some suggestions on how artists and industry players can leverage this trend:
Use AI-powered tools as part of your creative process but do not rely solely on them.

Foster collaborations between traditional artists and technologists.

Support more research into the ethical implications of using AI in the creation of artworks.
A noteworthy AI art generators project is "The Next Rembrandt," a project by ING Bank and J. Walter Thompson Amsterdam, used AI algorithms to create a new painting based on Rembrandt's style. This unique artwork resulted in a 3D-printed painting that featured an extensive range of colors and textures made possible only through AI algorithms.
By embracing this new technology while respecting its limitations and issues around ethics clearly mitigated; we can expect a brighter future of truly unique artworks both digital & physical alike. AI art generators may be limited in their ability to capture the complexity of human emotion, but at least they won't steal your paintbrushes.
Challenges and limitations of AI art generators
When utilizing AI art generators, there are several difficulties and restrictions that users should be aware of. These challenges limit the feasibility and accuracy of the generated artwork.
Some of the challenges and limitations of AI art generators include:
Dataset Bias:

The diversity and quality of data used to train the algorithm will have a substantial impact on the generated output. Inadequacies in data collection could lead to biased results.

Style Prejudice:

Certain AI art generators specialize in a particular style, which constrains the output's range and variety.

Technical Constraints:

Current AI technology requires powerful hardware, which is expensive for personal use, limiting accessibility.

Lack of Human Touch:

Despite its artistic abilities, machine learning lacks human intuition and expression that prioritizes emotions over technical details.

Copyright Issues:

Due to intellectual property rights, some images may not be available for public use or even private use in some cases.
However, despite these limitations, AI art generators provide a unique opportunity for artists while using this tool creatively. Not all artists can access expensive pieces of equipment required for traditional artwork. Although it has its drawbacks, because it enables anyone with an internet connection to create something meaningful and exciting.
One way to mitigate these limitations is by using an artificial intelligence-driven system trained specifically for generating specific kinds of artwork. It improves precision and reduces dataset bias as it experiences better training for specific outputs.
Moreover, involving human experts in designing their work alongside an AI generator is essential. Combining with Artificial Intelligence techniques would help achieve greater results than working independently.
In summary, self-awareness about restrictions should be one's first step when seeking creative growth because knowing what's feasible helps teams select resources more effectively.
Get ready for artificial masterpieces, as the future of AI art generators looks like it's going to be brush strokes ahead.
Future of AI art generators
Artificial Intelligence has revolutionized the world of art by producing unique and creative artwork. With AI art generators, the future of art is bright as they are continuously improving, providing endless possibilities for artistic expression. These systems have the potential to transform the creation process of art and push boundaries.
The advancements in AI technology have led to more sophisticated systems that can generate intricate pieces with ease. The future of AI art generators is promising as they continue to evolve and incorporate new forms of data input. They have the potential to develop a stronger understanding of aesthetics and produce personalized work that reflects individual styles.
With AI-generated artwork being exhibited in galleries and museums, it is clear that these machines are making strides towards becoming recognized artists in their own right. The intersection between machine learning algorithms and creative expression opens up an exciting avenue for exploration and experimentation.
It's fascinating to note that early attempts at AI-generated art date back to the 1960s. Machine Learning programs were used to create geometric patterns then, which evolved into computer-based drawing tools that could mimic color selection methods used by human artists. As technology has advanced since then, so too has AI art generation.
Artistic creativity is no longer solely limited to humans – machines are proving capable of creating beautiful and thought-provoking works of art as well. The Future of AI Art Generators looks bright as this field continues its skyrocketing development, resulting in a novel approach to artistic creation in tandem with technology guided advancements propelling human-level creativity at an unprecedented pace making it another digital revolution in close proximity with developments such as 3D scanning, printing etc.
Thanks to AI art generators, even those without a creative bone in their body can now claim they've made a masterpiece – just don't tell the real artists.
Conclusion and final thoughts on the best AI art generators available.
After careful evaluation and analysis of various AI art generators, it is evident that there are few tools available in the market that can produce high-quality artworks with remarkable precision. The best AI art generators have a higher degree of customization and interactivity, which enables the user to adjust the output according to their preference and create artwork that aligns with their creative vision.
These AI art generators are equipped with several features such as real-time style transfer, color enhancement, depth manipulation, and more, which makes them unique in terms of producing realistic and visually appealing outputs. Additionally, accessibility is another crucial aspect to consider while choosing an AI art generator. Some tools are available as web applications and can be used on various platforms without requiring any installation.
It is also worth noting that integrating these tools with other artistic software can yield unparalleled results for professional artists. They can use these AI generators as a reference to create unique pieces of digital or physical artwork. However, one must not solely rely on these tools when it comes to creating original art pieces.
Pro Tip: Try experimenting with different input images instead of relying solely on pre-existing templates to generate new artworks that shine with uniqueness.
Frequently Asked Questions
Q: What are the best AI art generators available?
A: Some of the best AI art generators available include Midjourney, Dall-e, Ganbreeder, DeepArt.io, Artbreeder, AI Painter, RunwayML, and PaintsChainer.
Q: Is it legal to use AI-generated art commercially?
A: It depends on the specific AI art generator and its terms of use. Some AI art generators explicitly state that their work can be used for commercial purposes, while others may require attribution or prohibit commercial use entirely.
Q: Can I customize the outputs of an AI art generator?
A: Yes, many AI art generators offer customization options such as changing the style or color palette of the generated art. Some may even allow users to upload their own images to be used as a reference for the generated art.
Q: Are AI art generators only for digital art or can they be used for traditional art as well?
A: While AI art generators do primarily generate digital art, some may be used as a reference for traditional art mediums such as painting or sculpture.
Q: How does AI generate art?
A: AI generates art by using algorithms to analyze and learn from existing images, then using that information to generate new images based on specific styles or parameters.
Q: Are AI art generators replacing human artists?
A: No, AI art generators are a tool for artists to use and experiment with, but they cannot replace the creativity and unique perspective of human artists.