Content creation is a critical component of any successful business, but it can be difficult to scale. This is where the AI tool Content at Scale comes in.
The software is an AI-driven content marketing and automation platform that produces full blog posts with just a keyword! It uses advanced AI engines to generate SEO content and increase your chances of ranking in Google. You can scale up your content production quickly and cost-effectively, and "edit and optimize 30 posts per day instead of 10-15 per month".
You might be thinking "with ChatGPT now taking over the world, what is so special about automated content creation?"
What sets Content at Scale from the competition is that it creates AI-undetectable articles and blog posts. This means that you can create high-quality, long-form content without worry of overly robotic or plagiarized text.
With Content at Scale, you don't need any hand-holding or direction – the AI engine does all the work for you. The team behind this product has extensive experience in SEO marketing, so they know how to make sure your content ranks well in search results.
Click here to sign up for Content and Scale and get 20% more post credits with your order.
In this Content at Scale review, we'll explore the benefits of using this revolutionary tool to create long form content, cover how the software works, and pricing options. By the end, you'll have all the information to know whether or not Content at Scale is the right ai content marketing tool for you.
Table of Contents:
What is Content at Scale Ai?
Content at Scale AI is an artificial intelligence (AI) writing platform that helps content creators create SEO-optimized blog posts to rank on Google. It uses natural language processing (NLP) to make SEO suggestions and generate long-form content averaging 2,660+ words per article in just a few minutes. Content at Scale also bypasses AI content detectors, which makes it a crucial tool for future-proofing your website content.
The platform helps you create content and produce plagiarism-free articles and has the ability to detect if an article was written by a human or by GPT-3 technology. This means that you can be sure that the quality of your content will not be compromised when using this AI writing assistant.
The best part about Content at Scale is that it takes only minutes to produce an entire blog post from scratch – no more waiting days or weeks for one article. You simply provide a keyword along with some context, and the AI engine will take care of everything else – generating fresh material with natural transitions and stories included. This makes scaling up your content production much easier than ever before.
What sets Content at Scale apart from other AI writers is its focus on creating original, high quality content while optimizing it for search engine rankings. The NLP algorithm ensures that each post is tailored specifically for your target audience while still providing all the necessary information they need without being too wordy or repetitive. Additionally, the platform offers various customization options so you can tailor each post according to your needs and preferences – making it easier than ever before to create engaging blog posts quickly and efficiently.
Check out examples of content written with Content at Scale here, here, and here.
Key Takeaway: Content at Scale AI is an artificial intelligence (AI) writing platform that creates SEO-optimized blog posts to rank on Google.  It's also able to bypass AI content detectors, which ensures your content will continue to rank in the future.
How Does Content at Scale Work?
Content at Scale is an AI content production platform that uses three distinct AI engines to generate high-quality, contextually relevant content without human intervention. This complex process helps bypass AI detectors and provides a reliable source for content creators to maximize their content distribution at scale.
The platform helps you create high-quality, long-form blog posts quickly and easily. It takes your list of keywords, analyzes them for relevance and search engine optimization, and then generates a full-length article in minutes.
Content Generation Process
Step 1. Enter Keyword(s)
Once you've entered a keyword or uploaded a list of several keywords, Content At Scale will automatically generate a unique article based on the topic. You can also customize the generated text with additional information or images if needed. The platform even provides helpful suggestions on how to improve the quality of your post before publishing it online.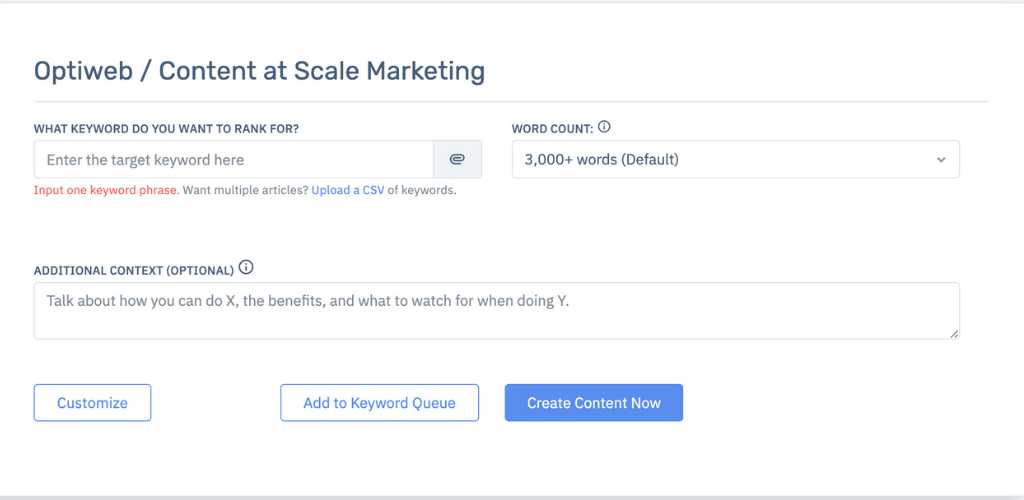 Step 2. Generate Content
What makes Content At Scale so powerful is its ability to bypass traditional AI content detection tools used by search engines like Google and Bing. By using NLP algorithms instead, Content At Scale ensures that all articles created are original and free from plagiarism – meaning they won't be flagged as duplicate content when indexed by search engines.
Step 3. Publish Article
With Content atScale, creating engaging blog posts has never been easier. No more spending hours writing long articles from scratch; now you can have fully optimized SEO-friendly blogs ready in minutes with just a few clicks of your mouse.
Content creators looking for an efficient way to create engaging content should consider using Content AtScale's innovative AI platform as their go-to solution for producing quality work with minimal effort required on their part.
Platform Overview
The Content At Scale Dashboard is the first place you arrive after logging in. Here, you can see all of your projects at once and get a quick overview of how each one is progressing. You can also add your website URL, set monthly post-creation goals for the project, and provide context about the website and contents. This makes it easy to keep track of progress and goals.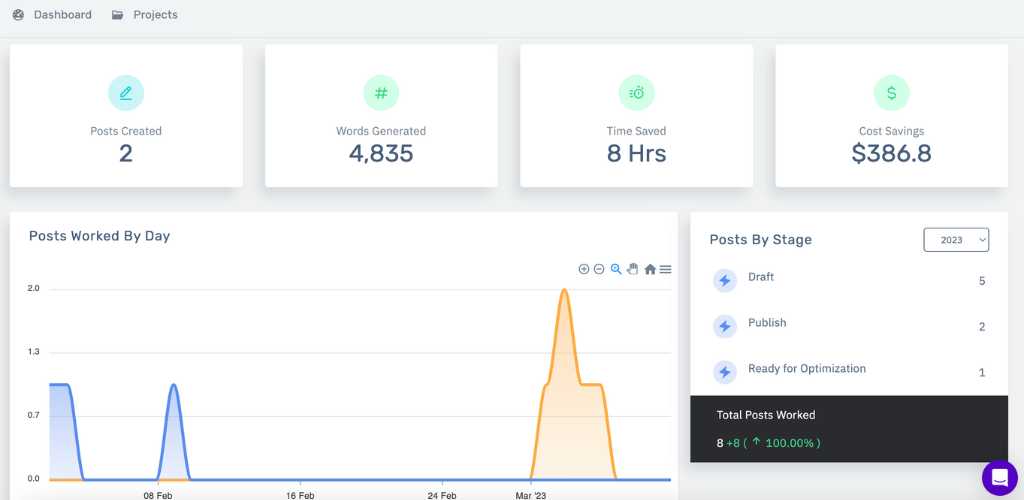 Once inside a project folder, you'll find all the test contents generated by Content At Scale organized into categories like "Headlines," "Body Copy," "Quotes," etc., so it's easy to find what you need when editing or combining pieces together into an article. The AI does most of the work for you here—allowing writers to focus on creating compelling stories instead of researching topics from scratch or coming up with original ideas every time they write something new.
In addition to generating text quickly and efficiently, Content At Scale also offers features such as keyword optimization tools that help make sure your articles are SEO friendly; image search capabilities; auto link insertion; built-in grammar checks; support for multiple languages; automated publishing options; analytics tracking tools; integration with popular CMSs like WordPress and Drupal; plus much more.
Overall, Content At Scale provides an efficient way for content creators to generate high-quality articles without having to spend hours doing research or manually writing out every sentence themselves—saving both time and money in the process.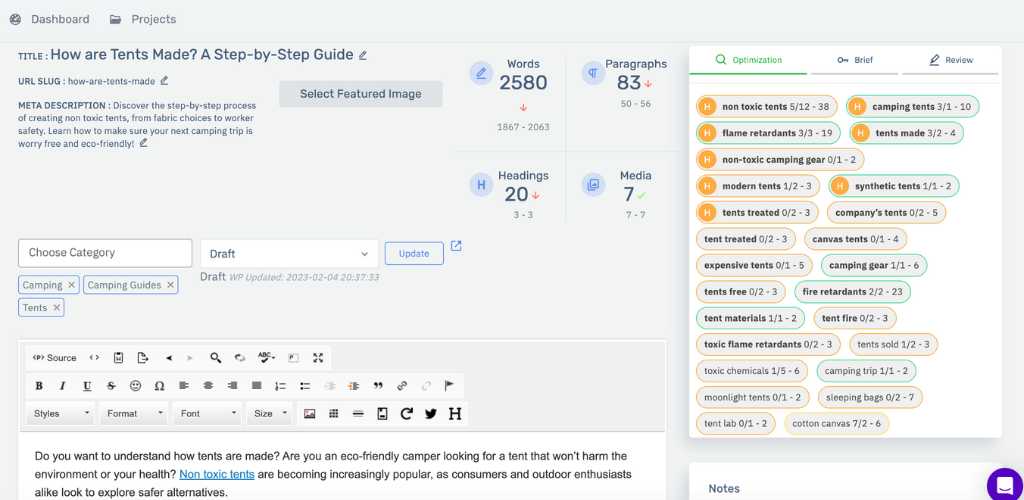 Content at Scale AI Engines
The algorithm uses natural language processing (NLP) to understand the context of each keyword and how it relates to other words in the article. This allows it to generate content that reads like something written by a human writer – without any manual intervention required.
The first engine used by Content at Scale is natural language processing (NLP). NLP algorithms are designed to analyze text data and extract meaningful information from it. This allows Content at Scale to understand the context of a given piece of text and generate appropriate responses based on this understanding.
The second engine employed by Content at Scale is semantic analysis. Semantic analysis algorithms look for patterns in words or phrases that indicate meaning, allowing them to better interpret the intent behind written text. By combining these two engines, Content at Scale can produce more accurate results than traditional methods like keyword search or manual editing alone.
Finally, the third engine utilized by Content at Scale is GPT-3 – a powerful deep learning algorithm developed by OpenAI which has been proven effective in generating high quality output with minimal input data required from users. With GPT-3's advanced capabilities, Content at Scale can create compelling pieces of content quickly and efficiently while still maintaining accuracy and relevancy throughout each piece produced.
Content at Scale Plagiarism & Ai Detector
Content at Scale produces plagiarism-free and AI-proof content quickly. It uses advanced algorithms to generate unique, high-quality content in minutes. It also has integrated Copyscape integration for additional plagiarism checking.
Grammarly is one of the most popular tools used by content creators to check their work for grammar mistakes and plagiarism issues. Grammarly flags any copied text as "plagiarized" even if it was unintentionally done so, making it difficult to pass its test without rewriting or editing the article manually. However, Content at Scale passes this test with flying colors.
Originality.ai is another tool used by many writers to detect plagiarism in their work before submitting it for publication or distribution online. Originality.ai checks your work against billions of web pages and other sources on the internet, ensuring that your articles are completely original and free from any kind of duplication or copying from other sources online. Content at Scale passes this test too.
Google's algorithm updates have made sure that publishing AI-generated content will result in decreased rankings over time due to its ability to detect such material more easily now than ever before; however, using Content at Scale ensures you can still create quality written pieces while avoiding Google's penalty system altogether.
Key Takeaway: Content at scale is best for people who need to produce high-quality material quickly and efficiently.  It offers numerous advantages, including increased efficiency, cost savings, improved scalability, and better analytics.
Content at Scale Pricing
Content at Scale pricing plans are designed to meet the needs of any budget, from small businesses up to large enterprises.
The most affordable option is $150 per month, and you can generate 4 posts at $37.50 each.
For $250 per month, you'll get 8 posts at $31.25 each.
With the Starter plan for $500 per month, you'll get 20 posts at $25 each. These will be SEO optimized and come with NLP recommendations in over 100 languages.
The Scaling plan for $1,000 per month lets you create 50 posts at $20 each. You'll also be able to manage projects with multiple team members and access an API to automatically publish posts at scale on WordPress.
The Agency plan for $1,500 per month gives you 100 posts at $15 each. You'll be able to white-label the AI software and get detailed reporting.
Any unused credits will carry over to the next month for up to 6 months.
Don't worry about commitment – they offer a 30-day money-back guarantee. If you're not satisfied, you'll get a full refund with no questions asked.
If you sign up through this link, you'll get 20% more post credits! For example, if you purchase the 20-post plan, you will get 5 extra posts for free.
Content at Scale Pros & Cons
Content at Scale is an AI-driven writing tool that can help content creators create high-quality, engaging content quickly and efficiently. It's a great option for those who want to save time while still producing quality work. Here are some of the pros and cons of using Content at Scale:
Pros:
• Automation – Content at Scale automates the process of creating content, allowing you to focus on other aspects of your business or project. You don't have to worry about researching topics or coming up with ideas; it does all the hard work for you.
• Cost Savings – Because Content at Scale automates much of the process, it saves you money in terms of both time and resources. This means more money in your pocket that can be used elsewhere in your business or project.
• Quality Output – The AI technology behind Content at Scale ensures that every piece produced is top-notch quality material that will engage readers and keep them coming back for more.
Cons:
• Lack Of Personalization – While Content at Scale produces great output, it lacks personalization when compared to manually written pieces because it cannot take into account individual preferences or style choices like a human writer would be able to do.
• Limited Topic Range – Since this tool uses AI technology, its range is limited by what data has been fed into its system so far; if there isn't enough information available on a particular topic then it won't be able to produce anything related to it either.
Overall, Content at Scale offers many advantages over manual writing processes such as cost savings and faster turnaround times without sacrificing quality output—but also comes with certain drawbacks such as lack of personalization and limited topic range due to its reliance on existing data sets.
Content at Scale Review: Key Takeaways
Content at Scale is a powerful tool for content creators that can help them generate dozens of plagiarism-free blog posts in minutes. It bypasses AI content detectors to gain topical authority and helps you save time and money by writing guest posts quickly rather than paying a human writer.
Using Content at Scale requires knowledge of the platform, so it's important to understand how it works before diving into its features. The platform offers an easy-to-use interface with options such as auto-generated topics, automated article generation, and more. You can also customize your articles with keywords or phrases for SEO purposes.
Content at Scale allows you to create multiple versions of each post which makes it easier to update existing content or repurpose old pieces into new ones. This feature saves you from having to rewrite the same article over again every time there are changes in search engine algorithms or industry trends. Additionally, the platform provides analytics tools that give insights on how well your articles are performing online so you can make adjustments accordingly if needed.
Finally, Content at Scale integrates with popular CMS platforms like WordPress and Drupal making it easy for users to publish their generated content directly onto their websites without any additional coding required. With all these features combined, Content at Scale is an invaluable asset for anyone looking to scale up their content creation process while maintaining quality standards across all published materials.
FAQs in Relation to Content at Scale Review
What does content at scale mean?
Content at scale is the ability to produce, manage and distribute content quickly and efficiently across multiple channels. It involves leveraging automation tools such as marketing automation platforms, social media management systems, and content creation software to streamline processes and create more efficient workflows. Content at scale also requires a strategic approach to creating content that can be repurposed for different audiences or formats. By utilizing these tools, businesses are able to maximize their reach while still maintaining quality control over their output.