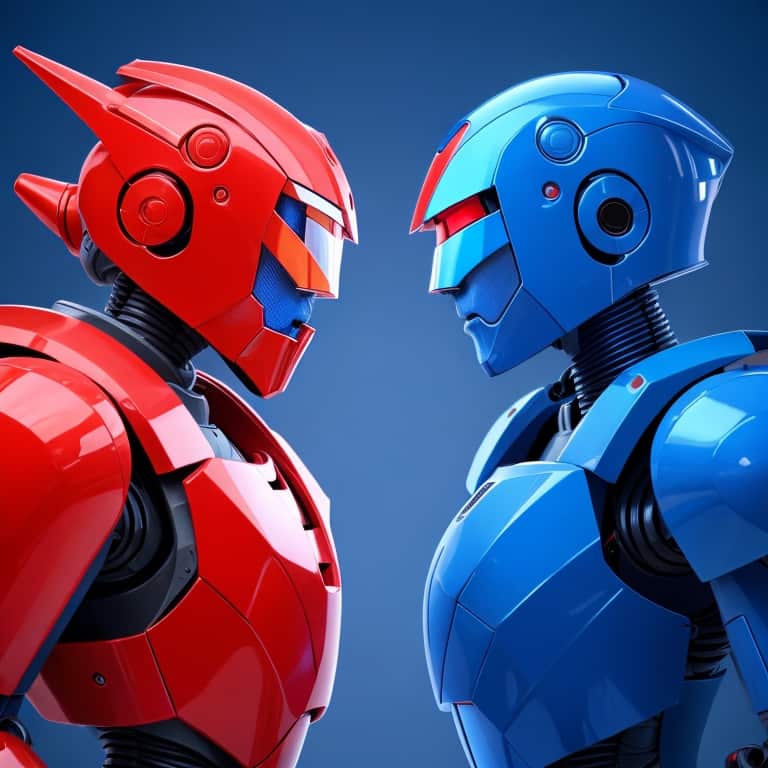 Are you looking for the best AI writing tool that will help you create high-quality and SEO-optimized content quickly?
In this article, we'll compare Agility Writer and Surfer AI to see which AI writing tool reigns supreme.
We'll give an overview of both tools, analyze their features, pricing, and pros and cons to decide if they meet your requirements.
So get ready to learn about A.I driven writing technology – it might just be what you need to take your content creation game up a notch!
Agility Writer VS Surfer AI
Features
The features of Agility Writer and Surfer AI are diverse and offer unique advantages to content creators. By considering what each platform has to offer, you can determine which one aligns best with your content creation needs.
| | | |
| --- | --- | --- |
| Features | Surfer AI | Agility Writer |
| Cost per Article | $29 | Around $3 |
| Article Length | 2K – 5K words | 1K – 6K+ words |
| Language Support | English | 15 languages supported |
| Integrations | Surfer SEO, Jasper, Google Docs, WordPress | WordPress |
| SEO Optimization | Yes | Yes |
| Outline Review & Edit | Yes | Yes |
| Keyword Research | Yes, max 100 per day | Yes, included in article credits |
| SERP Analyzer | Additional Fee of $29 for Essential and Advanced plans, Included in Max plan | Included in all subscriptions |
| User Experience | N/A | One-click article generation |
| Bulk Generation | N/A | Simplifies large-scale content production |
| Internal Linking Feature | N/A | Automatically link to existing articles in your site |
| Authority Linking | N/A | Automatically link keywords to high authority websites |
| AI Writer | Edit content with AI generated suggestions | N/A |
| Audit | Optimize existing content for additional fee of $49 | N/A |
Pricing
Understanding the pricing structures of AI writing tools like Agility Writer and Surfer AI is crucial for content creators, as it allows you to budget and plan your content strategy effectively.
Agility Writer Pricing (Monthly)
| | | | | |
| --- | --- | --- | --- | --- |
| Plan | Price/month | Price with Discount | Credits per Month | Articles per Month |
| Trial | $1 (one-time) | – | 3 (one-time) | 1 article (one-time) |
| Basic | $28 | $25 | 32 | 6 to 32 articles, depending on selected features |
| Pro | $98 | $88 | 120 | 24 to 120 articles |
| Premium | $228 | $205 | 320 | 64 to 320 articles |
Surfer AI Pricing (Monthly)
Keep in mind that in order to get access to Surfer AI, you must sign up for a Surfer SEO monthly or annual subscription.
| | | | |
| --- | --- | --- | --- |
| Plan | Price/month | Content Editor Limits | Other Features |
| Essential | $89 + $29 per article | 15 articles/month | Shareable links, Plagiarism checker, AI Assistant, 3rd Party Integrations, Jasper |
| Advanced | $179 + $29 per article | 45 articles/month | Included |
| Max | $299 + $29 per article | 90 articles/month | Included |
| Enterprise | Custom | Custom | Included |
| Add-ons | | | Grow Flow, Audit, SERP Analyzer, Whitelabel, API |
Agility Writer Review
Agility Writer offers numerous features, such as its advanced AI detection, Outline Builder and GPT-4 integration, to help users create SEO focused content more efficiently.
Agility Writer Key Features and Benefits
Advanced AI Detection Feature: Agility Writer incorporates an advanced AI detection feature that improves the originality and credibility of content. This feature helps writers generate high originality scores on tools like Originality.AI ensure that the generated articles meet high-quality standards.
AI-Powered Content Creation: Agility Writer utilizes advanced AI technology to generate high-quality, SEO-optimized articles of up to 7,000 words. It can quickly produce well-written articles with accurate and timely factual data.
Customizable Templates and Workflows: The tool offers customizable templates and workflows, allowing users to shape their writing projects according to specific needs and objectives. This feature enhances the efficiency of the content creation process.
SEO Optimization Automation: Agility Writer automates the SEO optimization process, saving time and effort for writers. It scans high-ranking articles on Google to understand search intent accurately and generates ready-to-rank article outlines quickly.
User-Friendly Interface: Agility Writer provides a user-friendly interface that saves time while delivering top-notch results for bloggers, SEO professionals, online publications, and companies seeking streamlined content creation. Its intuitive design and ease of use make it accessible to a wide range of users.
Smart Outline Builder: The Smart Outline Builder feature allows users to create ready-to-rank article outlines based on competitors' articles. This helps match search intent and enables users to write entire articles based on this information in just a few minutes.
Advanced Mode and Bulk Generation: Agility Writer offers an Advanced Mode that allows users to set their own article outlines and generate longer, high-quality articles exceeding 4,000 words. It also provides a Bulk Mode, enabling users to generate up to 50 articles in a single click. These features cater to different writing needs and facilitate large-scale content production.
Internal Linking and WordPress Integration: Agility Writer includes features for internal linking and WordPress integration, enhancing efficiency and user experience. These functionalities streamline the content creation process and make it easier to manage and publish articles.
Surfer AI Review
Surfer AI provides users with valuable insights and suggestions for optimizing their content for search engine visibility, as well as providing comprehensive analysis of the SEO factors relevant to a given web page.
Surfer AI Key Features and Benefits
AI-Powered Content Optimization: Surfer AI is a generative text software that uses natural language processing and artificial intelligence to write 2K – 4K word articles that are optimized for search engine results. It analyzes competitor insights, organic traffic, keyword trends, and search engine ranking factors to help content creators craft compelling articles that have the potential to rank highly in search engine results pages (SERPs).
Content Editor and Suggestions: Surfer AI provides a content editor that helps writers create articles with guidelines and offers content suggestions. This feature assists in maintaining the quality and relevance of the content while optimizing it for search engines.
Keyword Research and Content Strategy: Surfer AI offers tools for keyword research and generating content strategies. It helps users plan their content based on relevant keywords, ensuring that the articles align with search intent and target audience needs.
Content Auditing: Surfer AI includes an audit feature that enables users to optimize existing pages and conduct comprehensive audits to enhance the performance of their content. This feature helps identify areas for improvement and provides insights on how to dominate specific niches.
AI Growth Management Platform: Surfer AI provides a feature called Grow Flow, which is an AI-powered growth management platform. It helps users manage their content growth and optimize it for better results.
Tools and Integrations: Surfer AI offers free tools such as the AI Outline Generator and Keyword Surfer Extension. It also provides integration options with popular platforms like Jasper, Semrush, WordPress, Google Docs, and Surfer API. These tools and integrations enhance the user experience and facilitate a streamlined workflow.
Surfer SEO Score and Optimization: Surfer AI considers the Surfer SEO score, which evaluates the quality and optimization of content, to ensure that the AI-generated articles are on par with competitors and aligned with best SEO practices. This feature helps users create content that meets high standards and improves their chances of ranking well in search engines.
AI Writer Pros and Cons
Agility Writer Pros:
High-Quality Content Generation: Agility Writer uses AI technology to generate high-quality, SEO-optimized articles efficiently and effectively. It streamlines the content creation process and minimizes the need for manual editing, saving time for writers and content creators.
Affordable Pricing: With pricing starting at around $3 per article, Agility Writer is a cost-effective solution for creating high quality content at scale.
Innovative Features: Agility Writer offers a range of innovative features, including 1-click article generation, advanced mode for long-form articles, product roundup reviews, smart outline builder, anti-AI detection feature, and bulk mode.
Language Support: Agility Writer can create content in 15 different languages.
Factual Data Incorporation: Agility Writer leverages a hybrid model of GPT-3, GPT-3.5, and GPT-4 to enhance its ability to generate unique output while incorporating factual data. This ensures that the generated content is well-researched and aligned with the latest information.
Time and Effort Savings: By automating the content creation process, Agility Writer reduces the time and effort required by writers. It provides pre-generated outlines and suggestions, making it easier to create articles without starting from scratch.
SEO Optimization: Agility Writer focuses on creating SEO-optimized content, helping businesses improve their search engine rankings. It considers factors such as Surfer scores to ensure that the generated articles align with best practices for SEO.
Credit Roll-Over: Unused credits roll over to the next month.
Agility Writer Cons:
Speed of Article Generation: While Agility Writer offers efficient content generation, it may not be as fast as some other AI writing tools. The time taken to generate articles can vary from 5 to 45 minutes, depending on the complexity, and it may not be as quick as expected in certain cases.
Trial and Error for Customization: While Agility Writer provides customization options, it may require some trial and error to fine-tune the generated content according to specific requirements. Users may need to experiment and make adjustments to achieve the desired output.
Loss of Credits: Unused credits do not roll over from month to month.
Surfer AI Pros:
SEO Optimization: Surfer AI is directly integrated with Surfer SEO, and is designed to optimize content for search engines, helping users create SEO-friendly articles. It uses AI algorithms to analyze keywords, competitor insights, organic traffic, and other factors to generate content that has the potential to rank highly on search engine results pages (SERPs).
Readability and Accuracy: Surfer AI aims to produce content that is not only optimized for search engines but also maintains readability and accuracy. The tool uses natural language processing (NLP) and AI technology to ensure that the generated articles are well-structured and factually accurate.
Competitive Analysis: Surfer AI provides insights into competitors and analyzes data such as keyword trends, search volume, and ranking factors. This information helps content creators understand the competitive landscape and create content that can outperform competitors.
Surfer AI Cons:
Limited Content Types: Surfer AI is primarily focused on generating long-form and SEO-optimized content. While it excels in these areas, it may not be as suitable for creating other types of content, such as short-form articles or specific formats like product reviews.
Language Support: Surfer AI currently supports English language content only. If you require content in other languages, this limitation may impact its usability.
Pricing: At a starting cost of $29/ article for Surfer AI, plus an additional monthly cost of Surfer SEO, the pricing structure of Surfer AI may be a consideration for some users. It is important to review the pricing plans and evaluate the cost in relation to the specific content creation needs and budget.
Education Resources About AI Writing Tools
Conclusion: Agility Writer VS Surfer AI
Ultimately, it will depend on your particular needs as a content creator. Agility Writer and Surfer AI are both powerful tools with distinct capabilities. For instance, Agility Writer's features like the Outline Builder and GPT-4 integration makes it an ideal tool for creating SEO-optimized content quickly and efficiently.
Meanwhile, Surfer AI is best suited for optimizing existing content to boost visibility or analyze how competitors are doing in terms of rankings. Both tools offer several pricing tiers that cater to different types of content creators based on their budget and requirements.
There is no universal answer as to which one reigns supreme – users should evaluate each tool based on their personal preferences and objectives before deciding which would be the best fit for them.
Affiliate Disclaimer:
Please note that some of the links in this video and article may be affiliate links. This means that if you click on an affiliate link and make a purchase, we may earn a commission at no additional cost to you. We only recommend products and services that we have personally used and believe will bring value to our viewers.