Jasper Ai vs Content At Scale Ai
When it comes to creating content, two of the most popular tools on the market are Jasper AI and Content at Scale. Which platform is better for creating high-quality, human readable content? Let's take a closer look.
Jasper is a generalized AI that can be used to write blog posts, social media posts, emails, and more, while Content at Scale is focused solely on producing high-quality, SEO-optimized blog content.
This video comparing Jasper and Content at Scale is valuable for anyone looking to invest in either of these AI writing software.  Josh Sloan from Content at Scale breaks down the features of both platforms, including long-form content capabilities, time efficiency, bulk keyword capability, technology behind each platform, safeguards from future Google penalizations, and more.
What is Content At Scale Ai?
Content at Scale is a revolutionary new software that uses artificial intelligence (AI) engines, natural language processing, and semantic analysis algorithms to create high-quality blog posts with ease. All you need to do to generate a 3,000+ word article is enter a single keyword or phrase. In addition, the article will be 100% unique, grammatically correct and Ai undetectable.
Click here to read a blog post that I created using Content At Scale.
The Ai platform crawls Google and all the top ranking sites to find relevant content for your post, then builds out an entire article including title, meta description, headings, URL slug, paragraphs – everything you need. 
This makes it much easier for content creators to quickly produce quality work without spending hours manually researching topics or writing from scratch. Plus, Content At Scale layers on optimization suggestions so you can improve your SEO score and rank higher on search engine results pages (SERPs).
Click here to sign up for Content At Scale and get 20% more post credits with your order.
What is Jasper Ai?
Jasper is a generative AI platform that helps businesses create content tailored to their brand quickly and easily. Whether you're working on social media posts, product descriptions, or email newsletters, Jasper promises to make the process faster and more efficient.
In December 2022, they launched their Jasper Chat feature, which aims to provide an alternative to GPT-3 for chatbot development.
Jasper Ai vs Content at Scale Ai: Feature Comparison
---
In terms of AI detection accuracy, there's no contest – Content At Scale wins hands down every time. The platform's advanced algorithms generate content that will not be flagged as Ai-generated or spam by search engines or social media platforms, ensuring that your article reaches its intended audience.
The platform also uses machine learning to analyze and optimize content for search engine optimization (SEO), readability, and engagement. This ensures that the content is not only high-quality, but also helpful to the reader to achieve Google's Expertise, Authoritativeness, and Trustworthiness (E-A-T) criteria.
This feature is what truly sets Content At Scale apart, and cannot be consistently delivered using Jasper's automated system. I was never able to generate content with Jasper that passed Ai detection without doing significant revision and modification beforehand.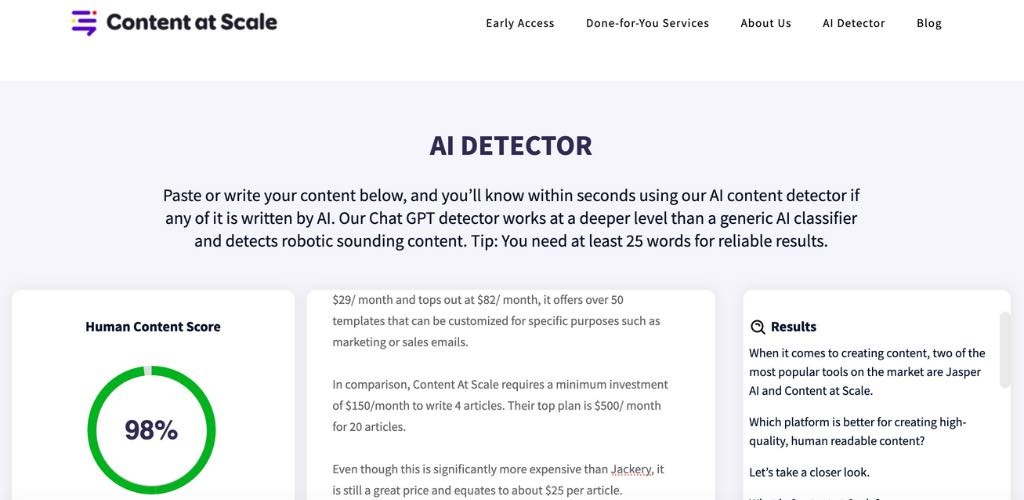 Natural Language Processing
When it comes to natural language processing (NLP), Content At Scale takes the lead with its ability to analyze your target audience and suggest topics that will resonate with them. On the other hand, Jasper does not offer this feature as part of its platform.
SEO-Driven Keyword Research
Content At Scale has a built-in keyword research tool so that users can easily find relevant topics for their articles, as well as targeted keywords to rank for on search engines like Google.
Jasper doesn't natively offer SEO services, but they do integrate with Surfer SEO for this type of data. However, this requires an additional monthly fee.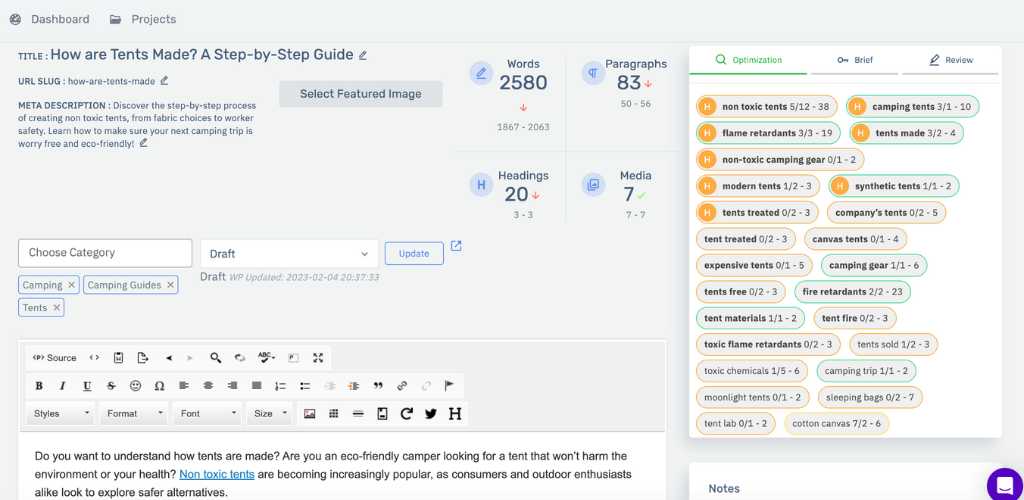 If you need real time data insights into how your content is performing, then Content At Scale has you covered here too. The platform provides detailed analytics so you can monitor performance and adjust strategies accordingly.
Unfortunately, this feature isn't available on Jasper yet.
In terms of content length, Content at Scale is the clear winner. While you can create long-form content with Jasper, it requires a lot more work and hand holding. 
Content At Scale can create a 3,500+ word article just by entering a single keyword or phrase into the platform and clicking "Generate". The generated content is well written, unique and AI undetectable.
As far as usability goes, both platforms have an intuitive interface that makes it easy to create SEO optimized content in just a few clicks. However, if we had to pick one winner here it would be Jasper due to its clean design and user friendly layout. Content at Scale is easy to use, but it's not as pretty or slick as Jasper. 
That said, I was still able to generate my first 3,500 word article on Content at Scale within 15 minutes of initially setting up my account. The entire process from start to final publish took less than 1 hour. You can see that article live here.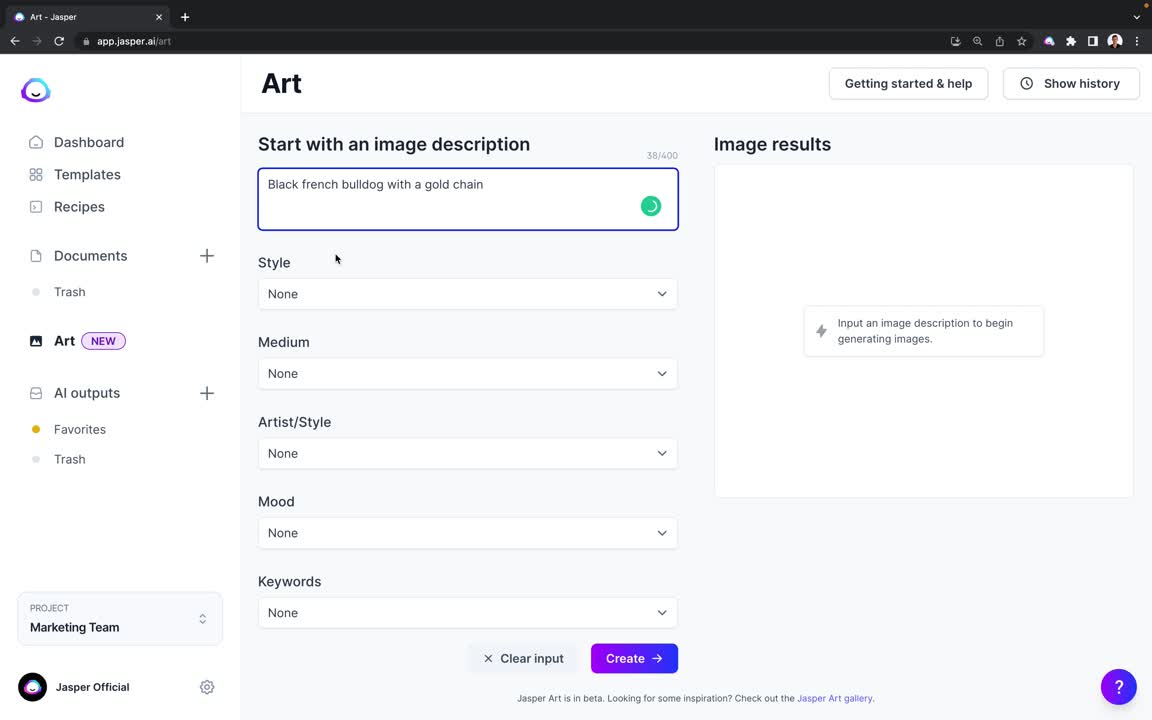 Content At Scale eliminates the need to choose a template or framework to give context to the AI engine. Unlike Jasper which requires users to select predefined content formats, Content At scale writes long-form drafts from just one keyword or topic without any human intervention required. 
This gives publishers, business owners and bloggers limitless combinations of unique content compared to predefined layout.
Jasper can't hold a candle to this, even using their "Boss Mode", which uses the built-in Jarvis Command to direct the AI to write what you need. Jasper can't generate a full long form article by itself. It's more suited for shorter pieces like emails, product descriptions or landing page copy. Content At Scale, on the other hand, is perfectly suited for writing long and short form content alike.
If you're looking for something more affordable, Jasper Ai is definitely cheaper. The least annual plan is the least expensive at $29/ month and tops out at $82/ month, it offers over 50 templates that can be customized for specific purposes such as marketing or sales emails. 
In comparison, Content At Scale requires a minimum investment of $150/month to write 4 articles. Their top plan is $500/ month for 20 articles. 
Even though this is significantly more expensive than Jasper Ai, it is still a great price and equates to about $25 per article. Especially when compared to content writing services like Text Broker that charge upwards of $100+ per article. 
Which is better?
For my purposes, Content Att Scale is better. I need well written, well researched, long-form articles to build content silos and topical authority. Content At Scale works perfectly for this. 
However, if I needed to generate short content snippets for product descriptions or website copy, Jasper would be a solid pick. It's a great tool for writing short, descriptive copy.
Click here to sign up for Content At Scale and get 20% more post credits with your order.
Related Posts: