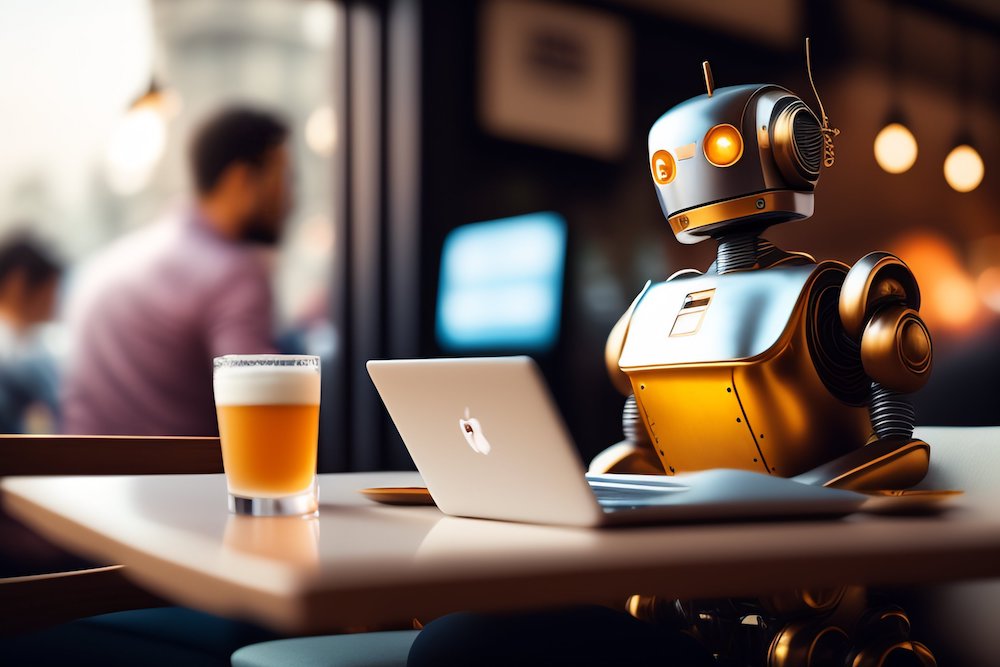 Content Automation Tools for Marketers streamline content creation for marketers. These tools leverage Natural Language Processing to produce quality text with minimal human input. Implementing such tools can help businesses save time and improve content precision. With features like sentiment analysis, keyword research and SEO optimization, automated content tools have become indispensable for modern-day marketing.
One such tool is Copy.ai, which utilizes Machine Learning Algorithms to create compelling copy in seconds. With an extensive database of prompts, Copy.ai provides a streamlined solution for generating text at scale.
Other popular tools include Word.ai, Jasper.ai, and QuillBot; each with unique features designed to cater to specific content needs such as writing clear SEO-based text or simplifying complex language.
As markets continue to shift towards automation, utilizing automated content tools will help establish businesses as leaders in their respective niches.
Best Automated Content Tools for Bloggers
As a blogger, you may require assistance to consistently produce high-quality content, which is where automated content tools come in. By utilizing the latest technology, these tools are designed to help you generate valuable content that engages with your audience.
Here are three of the best automated content tools that bloggers can take advantage of:
ContentBot:

A tool that uses natural language processing (NLP) to generate high-quality content effortlessly.

Grammarly:

An AI-powered grammar checker that not only finds spelling errors, but it also ensures that your writing structure and tone are appropriate for the intended audience.
Beyond generating content, these tools offer unique features to enhance a blogger's work like a built-in plagiarism checker that ensures your content is unique and personalized content for your specific niche. With their diverse range of features, these tools offer the ideal resources for bloggers looking to produce quality content with maximum efficiency. 
Content Ideation and Creation Tools
The tools and applications that assist in generating content ideas and creating them with minimal effort are known as Content Ideation and Creation Tools. They are highly effective for bloggers, writers, and businesses seeking to improve their online presence.
| | |
| --- | --- |
| Tool | Description |
| SEMrush- | SEO-focused tool that suggests topics, keywords, and content strategies. |
| Google Trends- | Identifies the most searched topics globally or regionally. |
| Ubersuggest- | Offering suggested titles based on typing in a keyword or phrase. |
With these tools, you access search data to curate articles that generate traffic, eliminating the need to second-guess whether your content will be successful. By utilizing these resources, you'll significantly improve the quality of traffic that you receive, and better match your topics' search intent.
Content Optimization and SEO Tools
For bloggers seeking to enhance their search engine optimization, there are several tools available for content optimization and SEO. These resources allow writers to improve the quality and relevance of their posts, ultimately resulting in higher search engine rankings and greater visibility.
Here is a table that demonstrates some of the best content optimization and SEO tools available:
| | |
| --- | --- |
| Tool | Purpose |
| Yoast SEO- | Offers real-time analysis and suggestions for on-page optimization, including metadata and readability scores. |
| SEMrush- | Provides in-depth analysis of website traffic, keyword rankings, backlinks, and more. |
| Ahrefs- | Offers an extensive backlink analysis tool that tracks backlink profiles and measures SERP rankings. |
| CoSchedule- | Headline analyzer to optimize article headlines |
Overall these tools should be used in conjunction with strong writing skills to make informed decisions about optimizing content for search engines. By incorporating these strategies into your blogging efforts, you can attract more readership and build a strong online presence.
Content Calendar and Management Tools
Content Planning and Administration Mechanisms are essential for bloggers to streamline their work process. These instruments enhance the management of content creation, scheduling, and distribution.
One of the benefits of Content Planning and Administration Mechanisms is that it helps with blogger's time management by limiting manual entry.

Bloggers use these tools to ensure regular publications, track post performance, and collaborate with team members.

With content administration mechanisms, bloggers can monitor their editorial calendars' progress in real-time, allowing them to stay on schedule with upcoming deadlines.
In addition, content planning tools also assist in outlining creative briefs or story ideas ahead of time. They're useful if you frequently get content ideas for your website while on the go.
According to Jeff Bullas, 60% of bloggers confess that time is a significant barrier to producing quality material.
Overall, utilizing effective Content Planning and Administration Mechanisms will free up valuable blogger's time while maintaining consistency and efficiency in their content releasing strategies.
Best Automated Content Tools for Social Media Marketers
Automated content tools have become a necessity for social media marketers to create compelling and engaging content. Discover the essential tools that can streamline your content creation process.
The following are some essential tools that can be used to streamline the content creation process:
Artificial Intelligence-based content creation tools that generate original content from the user's input.

Social media management platforms with automated content scheduling and curation features.

Automated content distribution platforms that ensure wider reach and engagement with a targeted audience.
Create better content with tools that use advanced analytics to personalize content according to the audience's preferences and behavior. This enables marketers to improve engagement rates and drive more traffic to their social media platforms.
Don't get left behind in the ever-evolving digital space. Invest in the best automated content tools available to optimize your content and elevate your social media presence. Start using these tools today and stay ahead of the competition.
Give your social media presence a robotic edge with these automated posting tools, because who needs personality when you have efficiency?
Automated Social Media Posting Tools
Many social media marketers use automated posting platforms to enhance their online presence. These tools are incredibly helpful in maintaining consistency and saving time.
Schedule posts in advance

Automate repetitive tasks like hash tagging and tagging

Provide analytics to track engagement

Integrate with various social media platforms

Offer content suggestions based on target audience
While these benefits may seem typical, there are still some unique capabilities offered by different automated posting platforms.
There was a time when people used to struggle with creating posts and scheduling them on social media. But nowadays, all major social media platforms provide APIs that make it easy for developers to create applications that interact directly with the platform.
Track your social media success with these analytics and reporting tools, because let's face it, if it's not on social media, did it really even happen?
Social Media Analytics and Reporting Tools
Social Media Performance Analysis and Insightful Data Presentation Tools enable social media marketers to get in-depth knowledge about their audience, social media channel performance, user engagement rate, and customer behavior on various platforms. Here are some pointed features which these tools cater:
Analytics Integration with Social Platforms

Campaign Tracking and Monitoring

User Engagement Rate Analysis

Content Performance Tracking

Customizable Dashboard Reports Generation
Apart from the above-mentioned features, these tools also provide crucial insights into what effective strategies social media marketers should follow to enhance reach and engagement rate. This helps them to create better-performing campaigns for their clients in the future.
When working with such tools, it is important to keep in mind that only getting metrics data wouldn't be adequate. Marketers should use this information and make meaningful decisions to improve their client's digital presence across different mediums.
A social media marketing agency once had clients' Instagram followers stuck at 15k for two months but after using analytics integrated automation tool "Tailwind", they came up with a campaign tactic that managed to increase followers count by 78% in less than three weeks- helping clients surpass 25k mark effortlessly.
Best Automated Content Tools for Email Marketers
For efficient email marketing, automation is crucial. To assist email marketers, various automated content tools are available. Here are some top content automation tools to make email campaigns precise and effective.
Grammarly for error-free content and readability

Hubspot for email marketing automation

Canva for easy and quick graphic designing

Crunchbase for accurate content research

Hootsuite for social media integration and cross-platform promotion
These content automation tools not only save time but also increase email campaigns' effectiveness. Marketers can focus on content strategy and personalization to engage their customers better.
History depicts that previously, email marketing was manual and time-consuming, with little scope for personalization. However, the introduction of content automation tools revolutionized email marketing and enabled businesses to target customers more efficiently.
Don't be a spammer, automate your email campaigns with these top tools for effective marketing.
Email Marketing Automation Tools
Email marketing is a powerful tool in today's digital landscape, and automation has revolutionized the way that email marketers engage with their audiences. With advanced tools and technologies emerging every day, it's essential to stay up-to-date with the latest Email Marketing Automation Tools.
Personalization Tools: Utilize personalized subject lines or provide customized content based on subscriber behavior.

A/B Testing Tools: Experiment with different email campaigns to determine which ones work best for your specific audience.

List Segmentation Tools: Categorize your subscribers into different groups based on certain attributes such as location, interests and purchase history.

Automated Email Marketing Programs: Make repetitive tasks automatic—everything from Welcome emails, Sales Funnels, Retargeting Emails etc

Email Analytics & Reporting Tools: Review key performance metrics like open rates, click-through rates (CTR).

Drip Campaign Builders: Convey appropriate messages about your products/service to audiences via a sequence of automated emails.
Here are some widely used email marketing automation tools:
ActiveCampaign: ActiveCampaign combines email marketing, automation, sales automation, and CRM. It's known for its robust automation features, allowing businesses to create complex automation workflows.
Drip: Drip is an eCommerce-focused email marketing automation tool. It provides advanced automation features, segmentation, and personalization to help businesses engage with their customers.
GetResponse: GetResponse is an all-in-one marketing platform that includes email marketing, automation, landing pages, and webinar hosting. It's suitable for businesses looking for a comprehensive solution.
ConvertKit: ConvertKit is designed for content creators, bloggers, and online businesses. It offers easy-to-use automation features, tagging, and segmentation to personalize email campaigns.
Sendinblue: Sendinblue is known for its simplicity and affordability. It provides email marketing, automation, and transactional email services. It's suitable for both small businesses and larger enterprises.
A precursor of automated email marketing was invented back in 1978 by Gary Thuerk who sent out a mass email campaign for DEC highlighting their newest product line.
Email Segmentation and Personalization Tools
In today's marketing world, reaching out to your target audience with the most personalized message possible is paramount. Having access to the right automated email tools can make all the difference.
Take a look at some of the most effective email segmentation and personalization tools available today:
| | |
| --- | --- |
| Tool | Description |
| Mailchimp | Their powerful "Segmentation and Groups" tool allows you to dive deep into your user base and create targeted campaigns that resonate. |
| Salesforce Marketing Cloud | This platform provides hyper-personalized content creation options for building unique targeted messages accessible across multiple devices. |
| Campaign Monitor | This tool boasts an intuitive interface that lets you automate emails based on subscriber behavior data. |
Many modern automated email programs have much more sophisticated segmentation abilities than ever before. These tools not only allow you to create custom-rules based on basic demographics, but they give you access to information about what actions users are taking with your content in real-time. Utilize these capabilities and stay ahead of your competitors.
It should be noted that choosing the right email segmentation tools requires a tailored fit for each company or brand. It may take some trial-and-error testing, however, having extra insight into what works best will always pay dividends in terms of improved customer engagement.
According to HubSpot's 2020 "Not Another State of Marketing Report," 78% of marketers have reported seeing an increase in email engagement over the past year using segmentation tactics, making it clear that maximizing one's use of automation platforms can result in solid ROI if implemented correctly.
Best Automated Content Tools for Video Marketers
As a marketer, utilizing automated content tools for videos can save time and resources while increasing engagement with your audience. Here are six top tools to consider:
Magisto:

This AI-powered video creation platform enables you to transform your raw footage into polished, shareable videos.

Vimeo Create:

A quick and simple video maker with customizable templates that can help tell your brand's story.

Animoto:

Create professional-looking videos to promote your product or service using drag-and-drop video builder and customizable templates.

Lumen5:

This tool enables you to transform blog posts into visually engaging videos with AI and customizable themes. One feature that sets Lumen5 apart is its ability to transcribe your audio into text for captions, making your content more accessible.

Vyond:

A platform that helps you create animated videos to explain complex concepts or introduce your brand.

Wibbitz:

This platform is designed for creating news-style videos and enables you to easily incorporate footage and graphics into your video content.
Video Editing and Creation Tools
Exploring the world of video creation and editing can be overwhelming. Therefore, we bring you some top-notch and splendid AI-based tools to ease your work. These tools will make it easy for you to create a video that can attract viewers. Here are six remarkable semantic NLP alternatives for Video Editing and Creation Tools:
Whether you're editing videos or creating new ones, these semantic NLP-based tools offer advanced techniques that can make your work much smoother and easier. Additionally, they come with smart features such as subtitles, voiceover narration, filters, animations, text-to-speech options and many more that make the process seamless.
Video Hosting and Analytics Tools
Looking for tools to host and analyze videos? Here's what you need to know.
When it comes to hosting and analyzing videos, there are numerous available options. However, some stand out above the rest. With Wistia, users gain access to both high-quality hosting capabilities and detailed video analytics. Meanwhile, Vimeo offers a customizable player that can be tailored to suit any brand, as well as various stats on video performance. SproutVideo allows for the creation of shareable video pages, where businesses can easily showcase their work to potential customers. Finally, Brightcove provides enterprise-level features and customization options beyond what many other tools offer.
Here is a comparison table of popular video hosting tools:
| | | |
| --- | --- | --- |
| Tool Name | Key Features | Pricing (per month) |
| Wistia | Video hosting, analytics | $99 – $459 |
| Vimeo | Customizable player, stats | $7 – $75 |
| SproutVideo | Shareable video pages | $24 – $199 |
| Brightcove | Enterprise-level features | Contact for pricing |
Conclusion: How Automated Content Tools Can Boost Your Marketing Strategy
Automated content tools can drive marketers' strategy. By using these tools, marketers can enhance their content's quality and quantity, save time and effort on creating personalized content, improve lead generation and conversion rates. The power of data analytics enhances their decision-making capabilities to create more attractive content and market them effectively. This can ultimately increase sales and revenue.
Using automated tools not only saves organizations time but results in top-quality insights that help pinpoint target audiences by demographics, interests, behaviors, pain points to craft personalized messages. With automation measures taking over routine operational tasks such as monitoring social media comments or inbox monitoring, it will give a company much-needed breathing space to analyze the ongoing engagement patterns with their audience naturally.
Automated systems offer affordable solutions that scale up businesses of any size by applying efficiency tactics all across industries from small teams to large-scale multi-nationals. By using artificial intelligence and machine learning algorithms, companies are heading towards a future that runs like clockwork without human intervention that could potentially provide them with much-needed revenue figures.
Frequently Asked Questions
1. What are automated content tools?
Automated content tools are software programs that generate content automatically without the need for human input or intervention. These tools use various algorithms and natural language processing techniques to create content that is relevant and engaging for your audience.
2. How do automated content tools help marketers?
Automated content tools help marketers by saving time and effort on content creation and distribution. They also ensure consistency and accuracy in content output, allowing marketers to focus on other important tasks such as strategy and analysis.
3. What are some of the best automated content tools for marketers?
Some of the best automated content tools for marketers include HubSpot, CoSchedule, Hootsuite, Buffer, Canva, and Grammarly.
4. Are automated content tools suitable for all types of content?
No, automated content tools are not suitable for all types of content. They are best suited for content such as product descriptions, social media posts, and email subject lines. For more complex content such as blog posts or whitepapers, human input is still necessary.
5. Are there any drawbacks to using automated content tools?
One of the biggest drawbacks of using automated content tools is that they lack creativity and the ability to come up with new ideas. They also tend to produce generic content that may not resonate with your specific audience. It's important to use these tools as a supplement to human input, not a replacement.
6. How can I ensure the quality of content output from automated content tools?
To ensure the quality of content output, it's important to choose the right tool for your specific needs and target audience. It's also important to edit and proofread the content generated by these tools to ensure accuracy and relevance. Finally, it's important to use these tools as a supplement to human input, not a replacement.